Anthropology
Véronique Nahoum-Grappe : Sociological strolls
From beauty esthetics to the mechanisms that govern cultural development, Veronique Nahoum-Grappe chooses her subjects very carefully. For the most part, she believes that treading between sociology and anthropology is best accomplished with an interdisciplinary approach, and an open mind.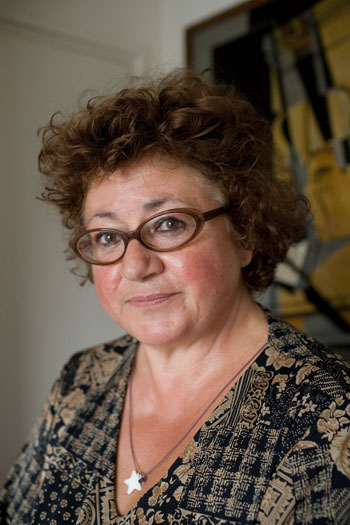 Véronique Nahoum-Grappe1 depicts our society as would a pointillist painter: using tiny dots of primary colors. Her palette includes human body esthetics, violence, gender relationships, excessive and dependent behavior, and many more. These are issues that she has tackled by observing her contemporaries. She has worked in prisons, for child protection services, she has traveled to refugee camps in former Yugoslavia, but many of her observations were simply made by strolling through busy city streets, always on the lookout for something to jot down.
In her latest essay, "Balades politiques" (Political Strolls)2, she defines her 'ethno-phenomenological' approach: "A stroll is an experience of perception which is incomplete and has no framework, and which sometimes puts into question a number of theoretical assumptions." It is therefore not the subjects studied that unify her work, but the manner in which she tackles them, mixing not only anthropology, ethnology, sociology, but also philosophy and history.
Now in her late fifties, Nahoum-Grappe is at home in all these fields. After initial studies in literature, she was enrolled for a philosophy degree at the Sorbonne. But this was 1968, and the student protest movement sparked a new direction for the young woman. She turned away from the philosophers–whom she found far too removed from everyday life–and embraced the historians. Her meeting with Emmanuel Leroy-Ladurie proved decisive. "Historians like him can capture the material and cultural life of a historical epoch," she explains. "The history they study is both sociological and anthropological." She was already starting to become deeply interested in "everyday cultural forms, those which are at work in the most routine interactions." With Leroy-Ladurie's help, she became a part-time lecturer at the École des hautes études en sciences sociales (EHESS).
During her ongoing studies, Nahoum-Grappe was to become a key participant in the historical and sociological surveys carried out at EHESS. But she was rapidly overwhelmed by the discipline's slow, implacable move towards "academic scientificity."
It was by attending the lectures of the famous anthropologist Françoise Héritier that she saw a way out. "It was a complete revelation," she recalls. "Françoise Héritier could connect Freud's interpretation of dreams, a short news item, and a traditional Burkinan custom to reveal certain mechanisms that govern the development of a culture." Nahoum-Grappe gave up the 18th century–which she nonetheless found fascinating–in favor of the present day, and tackled issues as diverse as beauty (her PhD dissertation was about the esthetics of the body), drunkenness (some of her work has even altered the vocabulary of alcohology), cruelty, women, and many more. Today, she feels that it was maybe her topics that picked her, rather than the other way around. "It slowed down my career, because I no longer had a specialization in one discipline," she smiles. But for an independent soul like Nahoum-Grappe, this was far from being a misfortune.
Today, she's a research engineer who enjoys great freedom: "I don't feel invested with an obligation to deliver up academic knowledge," she adds. But this doesn't prevent her from getting her ideas across. She writes articles for both specialized journals and daily newspapers, publishes essays, gives lectures to associations, holds research seminars, and has even had her column on a radio show. "Written or radio columns are the form I feel most comfortable with," she admits. "I like to strike the match, but not to set the wood alight." When Nahoum-Grappe finishes her two essays now in progress, "Soif d'ivresse" (Thirst for Drunkenness) and "La belle femme" (The Beautiful Woman), she wants to tackle topics like boredom, or the fatigue which affects some women. "This type of fatigue is a state of the body, a muted embodiment of bad 'mood,' which is simultaneously caused by both material and cultural living conditions, such as repeated pregnancies. It produces a distinctive negative psychotropic state, a sluggishness which can discreetly influence forms of communication between the genders, in family and in society, and which can have major but hidden repercussions in our societies." A state which, by the way, does not appear to have affected this tireless stroller.
Fabrice Demarthon
Notes :
1. Institut interdisciplinaire d'anthropologie du contemporain (CNRS / EHESS).
2. Éditions Les Prairies Ordinaires, 2005.