Horizons
Vietnam
The Ambition to Become an "Asian Dragon"
In the 1980s, Vietnam was such a poor country that it relied on rice imports to feed its population. Twenty years later, it is one of south-east Asia's fastest-growing economies, a key member of the Association of Southeast Asian Nations (ASEAN)1, and was this year admitted into the World Trade Organisation (WTO). The country's one-party communist regime even announced that it would hoist Vietnam into the category of "developed countries" by the year 2020.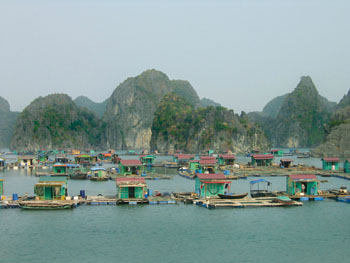 ---
© R. de Vernejoul/CNRS Photothèque
Halong Bay.
---
The Socialist Republic of Vietnam was established in 1976, after three decades of bloody wars of independence. Beginning in the late 1980s, the authorities abandoned a collectivist economy in favor of a gradual introduction of private enterprise. This was done through a series of radical reforms known as "Doi Moi" (which means renovation). In 2000, these culminated in the transformation of state run industries into shareholder-owned companies, and the creation of a stock exchange. With foreign investment now pouring into the country, boosted by accession to the WTO in January, a huge gap has been created between a young urban middle class, and a struggling rural population. In a state which outlaws dissent, enormous social challenges lie ahead.
With the ambition of becoming an "Asian Dragon," Hanoi adopted the country's first law to define, coordinate, and fund a national plan of scientific and technological development in 2000. Just two years later, total yearly government spending in Vietnam's science and technology sector had increased twofold to €150 million–two percent of all public spending and approximately 0.45 % of GNP.
The attribution of public funds sees the lion's share earmarked for technological sciences (31 %), followed by medical and pharmaceutical sciences (20 %), human and social sciences (18%), agronomical science (16%), and natural sciences (15%).2 Specific fields identified as priorities for future development include information and communication technologies, nanotechnologies, biotechnologies, industrial tools, health, and medicine. Among the social sciences, favored research fields are those focusing on the challenges of transition from a rural economy to a modern, industrial, and free market economy within a communist state structure.
The Ministry of Science and Technology receives just 10% of the total national budget in research and development (R&D), which means that most research centers under its authority must turn to outside funding for their activities. The remaining 90% is channeled into other separate ministries (notably that of Planning and Development) as well as provincial councils, universities, and research agencies.
France is the fourth largest financier of development aid to its former colony Vietnam, behind Japan, the World Bank, and the Asian Development Bank.3 It has been a leading foreign partner in Vietnamese scientific research for years, and is present today in a wide array of cooperation activities in which CNRS plays a major role. Some two thirds of all publications relating to Franco-Vietnamese scientific research is co-authored by CNRS, which last year opened a permanent bureau in Hanoi.
In 1983, an initial cooperation agreement signed between CNRS and its then Vietnamese counterpart paved the way for joint projects, particularly in the fields of nuclear science and geography, followed by a further cooperation agreement in social sciences in 1989. A joint conference on cooperation between the two countries, organized in Paris in 1995, laid the foundations for a structured plan for the development of joint research.
In 1997, the French embassy in Hanoi brought together CNRS research directors and colleagues from the two principal Vietnamese research agencies, the Vietnamese Academy of Science and Technologies (VAST) and the Vietnamese Academy of Social Sciences (VASS). Entitled "Science in cooperation for durable development," this meeting identified specific scientific fields for major joint research, separately formalized either by exchange conventions or under the structure of International Programs for Scientific Research (PICS).
An integral part of this plan was the establishment, in 1998, of high-level study facilities for Vietnamese researchers at the Franco-Vietnamese school of Do Son, a coastal town close to Haiphong. The Do Son school brings together research directors, professors, and industrial experts in the fields of exact sciences and technology, and offers Vietnamese students high levels of teaching based, each year, on specific themes. A joint French and Vietnamese management board selects the research topics on the basis of scientific importance and relevance to the overall development of Vietnam.
Areas of study have included issues like water-induced soil corrosion, waste treatment, and information technologies and telecommunications. This year's school research theme is 'Geosciences and the prevention of natural risks.' A second conference will be held later this year in Hanoi. It will focus on the applications of grid technology on life sciences and particle physics, and will be joined by teaching staff from Japan and Taiwan.
CNRS currently allocates some €200,000 per year in scientific cooperation to Vietnam. It funds 13 projects in association with VAST and one with VASS, on top of significant financing of joint activities by the French Ministry of Foreign Affairs.4 There are currently six PICS on a broad range of subjects (astronomy, geophysics, mathematics, spectroscopy, biological methods for optimizing herbal medicine and micro- and nanotechnologies).
A telling example of CNRS cooperation with Vietnam is the Hanoi-based Multimedia, Information, Communications, and Applications Center (MICA)–a top-level laboratory in communications research which last year became the 11th CNRS International Joint Unit (UMI), its third in Asia. MICA, a twin venture involving the Hanoi Polytechnic Institute and the Grenoble Polytechnic Institute (INPG), was formed from an enduring professional contact between Dr. Eric Castelli, professor of communications at INPG, and Dr. Pham Thi Ngoc Yen, who studied under Castelli in France in 1991. Their continued exchanges led to CNRS participation in the 2002 creation of MICA, which develops complex computer systems essentially for industrial application. Dr. Castelli is now its permanent vice-director for scientific research.
Added to these major joint projects are cooperation agreements between Vietnamese and French laboratories, including specific aspects of nuclear and environmental sciences. In all, combined CNRS staff missions to Vietnam total about 30 weeks a year, while combined missions by Vietnamese researchers in France total some 80 months per year.
The nature of this Franco-Vietnamese partnership has gradually moved from one of aid for development to that of a flourishing collaboration of mutual benefit. This past March, CNRS President Catherine Bréchignac travelled to Hanoi to sign a bilateral agreement expanding current cooperation activities, symbolized by the inauguration of the French House of Science and Technologies in the Vietnamese capital.5
Jason Brown
in figures*
> 83.6 million inhabitants, half of which are under the age of 35.
> 3.47 million people involved in scientific activity (including technicians and teachers).
> 25,000 scientific researchers (of which 13,500 are PhD students).
> 1101 laboratories (of which just 41 are privately financed).
> 1 150 million total yearly government investment in science and technology.
> 29% increase in published Vietnamese research papers between 2000 and 2004.
> 151 active CNRS researchers in Vietnam.
> 6 Franco-Vietnamese International programs for scientific cooperation (PICS).
*(2004 figures)
zoom
The CNRS Office in Hanoi
Located in the newly-opened French house of science and technologies in the Vietnamese capital, the CNRS permanent mission in Vietnam is run by south-east Asia Regional Director Bernard Mely. Aside from coordinating CNRS joint projects in the country, the bureau also covers CNRS activities across the neighboring ASEAN nations, notably Singapore and Thailand.
Contact: Bernard Mely, CNRS regional director, Hanoi.
Notes :
1. A body to promote economic growth, social progress, and cultural development among its 10 member states. www.aseansec.org
2. These 2002 figures are as percentage of total public spending on science and technology.
3. From the 2002 UNDP ODA survey for 2001.
4. The FSP (Fond de solidarité prioritaire) program ESPOIR is a major funds contributor to CNRS activities in Vietnam.
5. Maison française des sciences et des technologies, see CNRS International Magazine N°6.