Structural Biology
On Proteins, Sugars, and Structure
In early April 2007, a laboratory in Marseille made the headlines for its work on the conversion of all blood groups into universal donor group O. But this type of research is far from being the lab's only activity.
At his office on the Luminy campus in Marseille, Bernard Henrissat, director of the AFMB1 laboratory, still cannot believe it. He has been surprised by the media storm created by his team's results on the transformation of blood groups. "We really had not anticipated the massive interest raised by this work," explains this specialist in glycobiology, the biology of sugars. But if calm seems to have finally returned to AFMB, it is only an illusion. The three floors occupied by its eighty researchers, engineers, and technicians, hum with constant activity. Which is only appropriate for a European laboratory at the forefront of its field.
AFMB specializes in structural biology. Researchers there determine the three-dimensional structure of proteins and study their function. As explained by Henrissat, "AFMB is the country's leader in all so-called high-throughput structural biology, which makes it possible to quickly determine a protein structure from the sequence of its gene." An expertise that the laboratory now applies at an almost "industrial" scale to proteins, mainly for biomedical applications.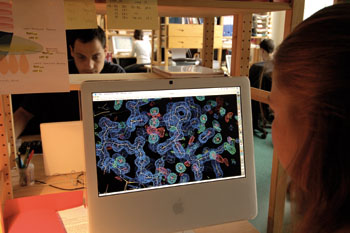 ---
© E. Perrin/CNRS Photothèque
Molecular modelling helps build and analyze the 3D structure of a protein. Links can thus be established between the chemical groups of a protein and its function.
---
"Type" Setters
Applied to the transformation of blood groups, the value of this technique is of obvious interest. Group O blood–the universal donor group–can now be obtained from any other blood group. This achievement was made by removing specific sugar molecules from the surface of group A, B, and AB red blood cells to produce group O cells on which these sugars are lacking.
This is the end-result of a discovery first made by Henrik Clausen in 2003. The scientist from the University of Copenhagen and chief science officer at ZymeQuest Inc. (in Beverly, Mass., US), found a "sugar-cutting" protein specific for group A blood cells. "Because the enzyme activity was very low, Henrik, whom we had been working with for many years, asked us to determine the structure of this molecule to see if we could link the structure and the function and thus improve the latter," recalls Henrissat. Something that was recently accomplished by the researcher and his colleagues Yves Bourne and Gerlind Sulzenbacher. Shortly after, Clausen discovered an enzyme capable of specifically attacking group B sugars. "In this case, we understood the molecular mechanisms underlying the action of the enzyme on the sugars before we were able to determine its structure," adds Henrissat. Nonetheless, the protocol developed by the research team made it possible to obtain group O blood cells in 90 minutes from cells from the three other blood groups, and clinical trials are currently under way. But this remarkable success is far from being representative of all activities at AFMB. "We agreed to collaborate on this because of our expertise in structural biology and glycobiology. But we viewed it mostly as a challenge, as this work is actually not central to our research program."
Most of the daily work of this biologist, who jointly leads the team with Yves Bourne, consists in feeding the Carbohydrate-Active Enzymes (CAZy)2 database, which went online in 1998. CAZy's purpose is to identify, among all the protein sequences released daily throughout the world by genome sequencing centers, those that might correspond to enzymes active on sugars. "Using the classification system we had developed in the 1990s, we are now building up a Mendeleev type of classification for carbohydrate-active enzymes," explains Henrissat. "Using this classification, we can now rapidly infer the relationships between the structure and function of an enzyme, and its mode of action, based on its sequence," adds Bourne. "For example, for the enzymes that convert blood groups, we immediately detected the novelty of their mode of action since they did not resemble any other element in the database. This was confirmed by our subsequent studies." CAZy is a precious tool consulted every day by thousands of scientists throughout the world.
Viral BreakDown
AFMB's international vocation is well illustrated by another of its major fields of research: structural virology. Led by Bruno Canard, research in this field is done in the context of numerous European projects. One such project is Vizier.3 Coordinated by AFMB, it was started in 2004 to improve knowledge of the proteins synthesized by viruses. Vizier's research strategy is as follows: First, determine the structure of viral enzymatic proteins, second, elucidate their function, and third, based on the structure/function relationship, offer strategies to develop novel, candidate antiviral drugs. "We are currently focusing our attention on viral replication enzymes, hoping to find a way to inhibit the multiplication of these viruses," explains Bruno Coutard, a member of Canard's team.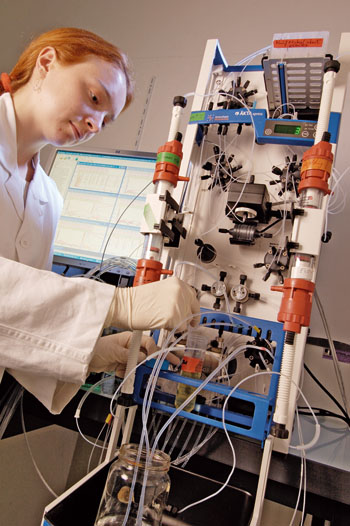 ---
© E. Perrin/CNRS Photothèque
After synthesis, proteins are purified by chromatography, which enables separation of the different molecular species present in the sample.
---
AFMB focuses on emerging viruses. It has thus helped elucidate the structure and function of proteins involved in the replication of SARS and dengue fever viruses. The laboratory also published important results on chikungunya virus a few months ago. "We completed this research in four to five months, compared to the two years it took for SARS," explains Coutard. "Our strategy is to accumulate a large amount of data on viruses which could affect both man and animals–even plants–so that if a new pathogen emerges, the data available would help us save time."

Although AFMB activities rather tend to focus on biomedical applications, the laboratory has nonetheless not neglected its basic research mission. Indeed, according to Christian Cambillau, head of the "Molecular transport and signaling" team, "there should be no conflict between basic research and the highly competitive kind. The only criterion that matters is excellence. Any outstanding research work can be exploited."

Cambillau thus studies phages (viruses which attack bacteria), and more particularly their amazing nanomechanical capabilities to bind to their host, perforate the cell membrane and inject their own genetic material inside the bacteria. Viral DNA is then replicated by hacking the bacterium's machinery. "We recently looked specifically at the structure of the viral proteins responsible for anchoring the phage to the surface of the bacterium. We showed that it is identical in several families of viruses, giving us important information on their evolutionary origin."

Cambillau is also interested in elucidating the structure of GPCR (G-protein coupled receptor) proteins, which are inserted in cell membranes. "Although 40% of drugs target these proteins, determining their structure has proved difficult because of their considerable flexibility. This is the Holy Grail of structural biology, and we are definitely not the only ones interested in the subject." Whatever the competition, AFMB will always try to provide expert answers on the broad range of subjects addressed, from neurosciences to the conversion of biomass into fermentable sugars. As Henrissat points out, "to produce good science, you must always be alert, and not put all your eggs in one basket."

Mathieu Grousson
Notes :
1. Architecture et fonction des macromolécules biologiques (CNRS / Universités Aix-Marseille I and II).
2. www.cazy.org
3. www.vizier-europe.org