The LIRMM (Montpellier Laboratory of Computer Science, Robotics, and Microelectronics, CNRS/Université Montpellier 2) has worked for many years on the creation of prototypes in the field of parallel robots. These manipulator robots comprise several "arms" or kinematic chains linking their base to their mobile parts. They are employed in various industries to handle small objects on production lines.
Over the last six years, the LIRMM has teamed up with the Fundación Fatronik, an applied research centre in the Spanish Basque Country, to design and control manipulator robots. The researchers have come up with a solution that is both innovative and compatible with the constraints of industry. Innovative by the general shape of the robot: it has four robotic arms with different ergonomics to those of a conventional single robotic arm and more similar to a human arm. The researchers particularly focused on design calculations to optimize the dimensions of each component in order to obtain maximum acceleration. Their solution meets the constraints of industry thanks to the robot's control system, which limits vibrations and, consequently, the time required by the robot to set down a part at a precise spot. The result is a prototype that can handle 240 parts a minute and attain accelerations of 200 meters per square second with loads of two kilograms, compared to 100 meters per square second and one kilogram for current robots.
Thanks to this performance, the LIRMM prototype has convinced Adept, one of the world leaders in robotics, to produce the robot on an industrial scale. Over the last six months researchers and industrialists have worked on this transfer of technology, leading to the robot's market launch. Baptized Adept Quattro, it is targeted for all applications where objects need to be moved and packaged, particularly in industries such as food processing, health, beauty, electronics, etc. Several hundred orders have already been placed for the robots, which cost between 30,000 and 50,000 Euros each, depending on the amount of integration work that needs to be carried out in the industrial installation.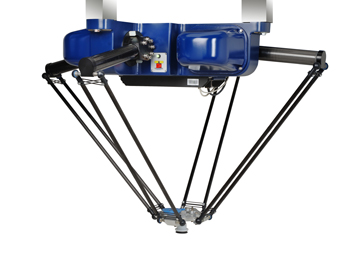 ---
© F. Pierrot - CNRS 2007 (These images may be obtained from CNRS Photograph Library, +33 (0)1 45 07 57 90, phototheque@cnrs-bellevue.fr) 45 07 57 90, phototheque@cnrs-bellevue.fr)
Figure 1 – The Adept Quattro robot, equipped with four arms, can handle up to 240 parts a minute and attain accelerations of 200 meters per square second for loads up to two kilograms.
---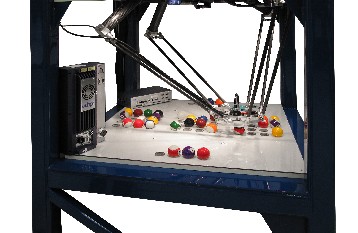 ---
© F. Pierrot - CNRS 2007
Figure 2 - The Adept Quattro robot being put through its paces at a trade show in the United States
---