The Earth's Final Frontier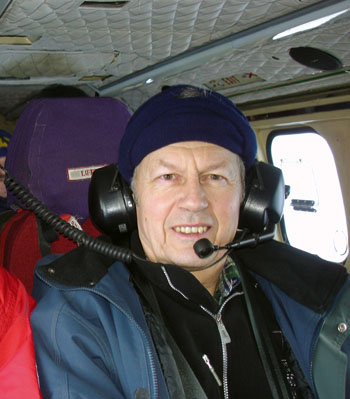 ---
© IPEV
Gérard Jugie, Director of the Paul-Émile Victor Institute (IPEV).
---
Extraordinary sites of extreme contrasts (the coldest temperatures, strongest winds, longest days and nights, etc.), terrestrial and marine polar regions have been a subject of fascination for many decades, whether because of the grandeur of their icy landscapes or the emblematic nature of the animal species that inhabit them. Over the next few months, several events making up the International Polar Year (IPY), organized in association with the International Council for Science (ICSU) and the World Meteorological Organization (WMO), will place these regions, and the men and women who work there, under the spotlight.

Famous French explorers such as Dumont d'Urville, Charcot or, more recently, Paul-Emile Victor took part in the discovery of these inhospitable realms, and France has since continued to play an important role in polar exploration. During the International Geophysical Year of 1957, scientific pioneers took over from the explorers and consolidated France's position at the forefront of this field, particularly in the Antarctic, by helping set up long-term observation stations on the sixth continent. The IPY is an occasion for teams of scientists from more than sixty countries to focus on six research themes:

- determine the current environmental status of the polar regions.

- quantify, and understand, past and present natural environmental and social change in the polar regions and improve prediction methods.

- advance our understanding of the links and interactions between polar regions and the rest of the globe on all scales, and of the processes controlling these links.

- use the unique environment of the polar regions to advance cutting-edge research.

- use the unique vantage point of the polar regions to develop and enhance observations spanning from the interior of the earth to the sun.

- investigate the cultural, historical, and social processes that shape the sustainability of circumpolar human societies, and identify their unique contributions to global cultural diversity and citizenship.

Awareness of these regions' significance in relation to the major factors that govern the equilibrium of our planet is a recent occurrence. Polar regions are now believed to be at the heart of key issues such as climate change, the ozone layer, and sustaining biodiversity.

Through its unwavering commitment to scientific and technological research in polar regions, its numerous international collaborations, and its availability of logistical resources to implement such programs, France has a defining role to play. Indeed, a recent bibliographical study ranks France in fifth position worldwide for its extensive work in Antarctica and first overall in Sub-Antarctica, displaying the excellence of scientific research in these fields.

Both CNRS, through the diversity of its numerous scientific disciplines and the Paul-Émile Victor French Polar Institute (IPEV), whose expertise was acquired over years of field expeditions, will be playing crucial roles in this 4th IPY which officially opens polar research for the 21st century.