Solar energy
The Sunny Side of Research
On July 6, 2006, French Minister of State for higher education and research François Goulard signed an agreement for the creation of the National Institute of Solar Energy (INES),(1) together with regional and academic partners(2) including CNRS. This institute will have the major task of coordinating all aspects of research on solar energy in France.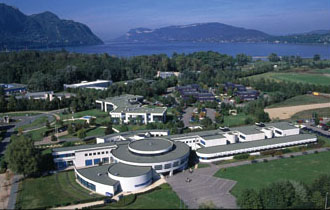 ---
© Savoie Technolac – Labelimage
INES opened its doors in July 2006 at the Technopôle Savoie Technolac, located on the banks of Lake Bourget.
---
Climate change, energy dependence, mid-term depletion of fossil fuels... There is no shortage of arguments pushing for alternative ways of producing energy. Researchers are working toward the development of renewable energy sources, such as solar energy, an abundant pollution-free source available around the world. Yet France has fallen behind in the field. The National Institute of Solar Energy (INES), inaugurated on July 6 on the banks of Lake Bourget in the Savoie department, intends to help France regain its place among the frontrunners of research in this field.
"It is the strong determination of politicians, industrialists, and associations that has paved the way for the institute's creation in the region," says Vincent Jacques le Seigneur, secretary general of INES. The institute's location at the Savoie Technolac site represents one major advantage. For 15 years, the Rhône-Alpes region and the Savoie department have been focusing on renewable energy sources. INES stands alongside several industrial players specialized in solar energy, which are already busy at work in the region and constitute part of the TENERRDIS competitiveness cluster.3 This cluster is a network of companies, training centers, and public and private research laboratories in the field of renewable energy sources. It is also particularly industrious, since in its first year, in 2005, it received €27 million in public research grants following a series of calls for proposals. TENERRDIS-supported projects cover a wide range of energy technologies, from the most mature (hydraulics and solar thermal energy) to the most trailblazing (fuel cells for automobiles and wood gasification). INES is developing the field of "solar energy and building" within the TENERRDIS cluster.
INES is divided into three platforms. The platform dedicated to research, development, and industrial innovation (RDI) is aimed at developing new technologies both in solar thermal energy (hot water and heating through direct conversion of solar flux into heat) and photovoltaics (conversion of light into electricity). It will also work on integrating these systems into buildings. The "demonstration" platform will test the equipment and systems developed by the RDI platform, to determine more specifically their performance levels and overall energy costs. Finally, the "education" platform is intended to deliver existing training to companies and professionals and is also tasked with assessing the actual performance of the solar facilities.
This impressive program calls for substantial resources. The Savoie Departmental Council and the Rhône-Alpes Regional Council have provided INES with a global investment worth €30 million for facilities and equipment. The government will provide a futher €30 million to run the institute.
More than 60 researchers from CNRS, CEA, and the University of Savoie are already at work in facilities spanning 3200 m2. By 2009, a new building boasting some 12,000 m2 will be built, providing room for more than 250 tenured research staff.
Obviously, no effort has been spared to make up for lost time. While France ranked 3rd in 2005 in the EU in terms of photovoltaic power installed per capita, this output was still 100 times less than in Germany, the European leader. Although rapidly increasing in France, photovoltaic equipment only represented a cumulated capacity of 32.6 MWp4 in 2005, compared to Germany's 1537 MWp. Solar thermal energy is also sweeping the market, with nearly 80,000 m2 of panels fitted last year in France. Once again, this figure is a long way off the 800,000 m2 fitted in Germany last year.
But such forms of energy, which are yet to rival conventional energy sources like oil or nuclear power, do come at a price. The major issue facing research and development today is the improvement of cost-efficiency of renewable energy sources, a crucial factor for giving companies a competitive edge and further developing the overall economy. "Just like its European partners, France must produce 21% of its energy from renewable energy sources by 2010," points out Jacques le Seigneur. With INES in the picture, this goal is within reach.
Isabelle Tratner
Notes :
1. Institut National de l'Energie Solaire.
2. Savoie General Council, Rhônes-Alpes region, CEA (Atomic Energy Commission), CSTB (Scientific and Technical Building Center), University of Savoie, Department of National Education, Higher Education and Research.
3. TENERRDIS: Technologies for New and Renewable Energy Sources-Rhône-Alpes, Drôme, Isère, Savoie.
4. MWp=peak megawatt: Unit used to measure the standardised power output (nominal output) of solar cells and photovoltaic modules.