LIMMS
Nano Systems Partnership Delivers
Dating back to 1995, the Laboratory for Integrated Micro-Mechatronic Systems (LIMMS), situated within the prestigious University of Tokyo, has become one of CNRS's most successful international research partnerships.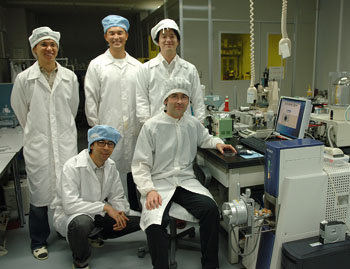 ---
© LIMMS CNRS/IIS Univ. of Tokyo
Le Pioufle and Japanese colleagues in a clean room.
---
LIMMS, a joint enterprise between CNRS and the University of Tokyo, counts 23 Japanese and French researchers specializing in the domain of micro and nano-electro-mechanical systems (MEMS and NEMS, respectively). These constantly evolving microscopic, mechanically operative integrated systems possess massive potential for developments across many sectors of activity, from industry to healthcare.
The mission of LIMMS, housed within the University of Tokyo's Institute of Industrial Science (IIS), is to surpass existing limits of MEMS and NEMS applications in the fields of integrated micro- and nano-mechatronics, nano-metrology, micro- and nano-photonics, bio-engineering, molecular engineering, and integrated circuits.
CNRS staff are among the French researchers at the unit, many from posts in higher education as well as post-doctoral fellows (under the umbrella of the Japan Society for Promotion of Science, a key sponsor of LIMMS) and, to a lesser degree, CNRS PhD students. All are assigned to "host" laboratories, generally within the IIS.
Dr. Bruno Le Pioufle, a CNRS research director normally based at the Ecole Normale Supérieure in Cachan, near Paris, is on a two-year temporary assignment as co-director of LIMMS, a position he holds alongside Japanese colleague Professor Hiroshi Toshiyoshi, from the IIS. Two to three-year rolling assignments are the norm for French staff at the unit. "There's something to gain for everyone here," says Le Pioufle. "French researchers acquire a considerable expertise from the advanced work in the laboratories, and the post-doctorates can expect to find a job on return. The experience also opens people up to the idea of international cooperation."
When LIMMS was first launched, French researchers had much to learn from their Japanese colleagues about MEMS, particularly on systems applications. But over the years, the continued cooperation has boosted research in the domain within France itself, resulting in a more balanced relationship between the partners today. "Japan is very advanced scientifically, which translates into a favorable environment for research," says Le Pioufle, who particularly appreciates the lack of administrative constraints for getting on with the work.
The Japanese team at LIMMS is mostly made up of professors from the University of Tokyo who "host" the laboratories where the research is carried out. With a few exceptions, these projects all involve one French researcher alongside several Japanese colleagues. Le Pioufle identifies contrasting approaches to research in France and Japan: "The Japanese tend to go straight to their goal and are more experiment-minded. When they have a research subject, they put it to the test as quickly as possible. Their individual approach is more autonomous. In France, we tend to have a more sequential approach, spending more time evaluating all the possibilities as to whether an experiment will work or not." But there are pros and cons with both methods. "Learning from such differences, as well as the personal experience of living in a country so culturally different, are some of the many enriching aspects of working at LIMMS," argues Le Pioufle.
While there is high demand from France for post-doctoral positions at LIMMS, Le Pioufle says finding permanent researchers is "more difficult," mainly due to the problems of uprooting one's family to settle on the other side of the globe. All French researchers at LIMMS receive Japanese language training, but when insufficient for communicating at an advanced level with their Japanese colleagues, English is the common tongue.
For Le Pioufle, who arrived at LIMMS in 2005, life in Japan is "very agreeable." He has mastered Japanese, which he mostly uses in his day-to-day managerial role. "My job requires my entire reservoir of skills as a communicator," he says, "listening to others and facilitating the exchange of ideas. It's an enthralling mission."
Graham Tearse