Bing Zhao
Green Tea and Precious Ceramics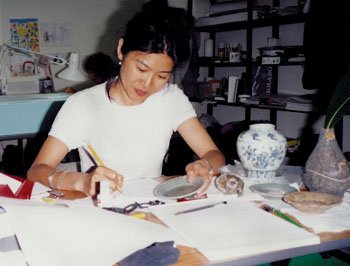 ---
© DR
---
Looking at the Latin characters and ideograms on her business card, one notices that her family name "Zhao" is written before her first name "Bing," following Chinese tradition. This archaeologist from the "Middle Kingdom"1 (where porcelain was invented in the 7th century), specializes in Chinese ceramics–"a very minor discipline in France," she admits with a smile.
Bing Zhao feels very much Chinese, but likes to point out her French intellectual "heritage." "After leaving China in 1990, and then traveling to Hong Kong and Japan to follow my French husband, I arrived in Paris in 1993," she explains. "I immediately contacted Michèle Pirazzoli-t'Serstevens, the French specialist in Chinese archaeology, who became my thesis director." Bing Zhao joined the Research Center for Chinese, Japanese, and Tibetan Civilization2 in 2003, after completing her thesis (which was awarded two prizes)3 and two years of post-doctoral work. "She taught me a lot about research and about taking a more sociological approach to archaeology. She showed me how to look at things from a different angle, at what an object can tell us about the society that used it, at the human relationships surrounding the object, from its conception to its use." Zhao also likes to compare various approaches: "In China and Japan, people stay focused on studying the actual objects, mostly beautiful imperial pieces. It's interesting to see students touch these objects. As the Chinese masters say, 'you cannot know a piece of ceramic unless you have touched it'."
She was also inspired by the work of Jean-Marie Pesez (1929-1998), a medievalist archaeologist who studied the organization of villages and the life of craftsmen and simple people. Zhao's research traces the social organization that formerly surrounded the production of Chinese ceramics during the Song era (960-1278): the life of potters, their techniques, distribution networks, etc. And for this, she relies on all types of resources including archaeological, textual, and ethnoarchaeological data. "Ceramic research takes me everywhere," she says. Zhao has gone to Brunei, to Sharma in Yemen, to Qal'at al-Bahreïn in Bahrain, and to other archaeological excavation sites around the world where her expertise has proved invaluable. She also finds the time to work for the Atlas of Islamic ports and commercial maritime routes program.4 Ceramics can provide important information on the precious cargo of this international trade: silk, spices, glassware, silverware, etc. But she never goes anywhere without her favorite Baroque music and her green tea. "My favorite green tea is the one harvested in the spring, which I bring back from China. But when I go back there on assignment, I also like walking in the streets with everyone, eating in local restaurants... basically getting back to my roots."
Magali Sarazin
Notes :
1. That is how the Chinese referred to their country, which they believed to be at the center of the world.
2. Centre de recherche sur les civilisations chinoise, japonaise et tibétaine (CNRS / Collège de France / École pratique des hautes études de Paris / Université Paris-VII joint lab).
3. Bing Zhao was awarded prizes by the French Association for Chinese Studies and the French Association for Collectors' Ceramics for her thesis "The Jizhou Pottery Works in Jiangxi from the 10th to the 14th Century."
4. Program headed by Monik Kervran, from the laboratory "Orient and the Mediterranean" (CNRS / Universités Paris-I and IV / Collège de France / École pratique des hautes études de Paris joint lab).