TECHNOLOGY
When cameras become intelligent
In the city of Montbonnot (near Grenoble), the Gravir laboratory, which specializes in virtual reality and vision, is developing robotic technologies for the future, procedures which may well transform our day-to-day lives.
For Gravir researchers, the videoconference of the future looks just like a child's game. A stiff paper sheet is placed on a table, onto which a system projects the image of a big smiling yellow man and two squares: one red, one green. Touch the green square and the image changes–the man is no longer smiling but appears to be puzzled. Pick up, move, and turn the sheet of paper any way you like and the illustration follows it, as if it were "stuck" to the surface. You can even throw your arms forward, and the image jumps onto the wall across from you, where it is enlarged onto a whiteboard.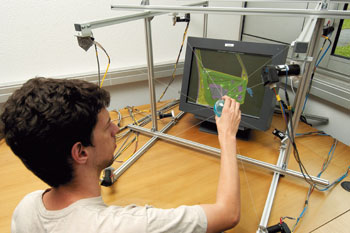 ---
© J. Wallace/INRIA
Here, the first industrial virtual reality applications are already being developed. Using a "spidar," an automobile engineer can define the optimum procedure for assembling an electric window motor in a car door (on screen).
---
This "interactive surface" uses six cameras and video-projectors distributed around the room, and could very well be the next generation in videoconferencing. But for its designers, it is used primarily as a demonstration of the various types of activities underway at Gravir,1 a specialized laboratory in robotics, vision, virtual reality, visualization, and animation. The center, housed in the Inria Rhône-Alpes building, was created ten years ago and currently has a staff of 157, including 40 permanent researchers. It harbors an incredible array of equipment, from workbenches, or virtual workbenches, which allow the manipulation of visual data with or without force feedback, to a studio in which a user can immerse himself to interact with objects in a virtual landscape. But this lab also develops advanced four-wheeled "Koala" machines, "cybercars" equipped with telemetric sensors that can eliminate the need for drivers, and even a bipedal robot developed a few years ago in a completely different context, proudly exhibited as testimony to technological progress.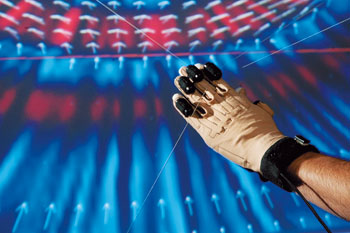 ---
© J. Wallace/INRIA
This technology can also assist geologists in their work. By "feeling" the way a seismic wave is propagated in underground strata composed of different types of rocks, specialists are able to sort data more easily.
---
Gravir's slogan is "team independence," states James Crowley, the center's director. "Here, each team works in almost complete freedom." Divided into seven groups, the members of the laboratory define their objectives without worrying about reserved areas of research. This type of organization instills a spirit of competition and increases exchanges between the sub-fields. It is also the key to Gravir's success. With an array of industrial contracts, more than 80 publications, and four start-ups in 2004, the laboratory has become an internationally-recognized showcase in this field, particularly for its knowledge of "monitoring and interpretation" processes (software that allows detection, trajectory monitoring, and even the recognition of objects via images recorded by cameras). And in this particular area of research, Gravir scientists are currently developing the first applications. "Reinforced monitoring," a software application developed five years ago, is dedicated to selective counting: Using a camera, it counts human beings passing near a given place. Now marketed and used for airport security, this remarkable technology was successfully tested on window-shoppers in Madrid in 2003. The software was able to calculate the percentage of passers-by who stopped to look at a particular shop window.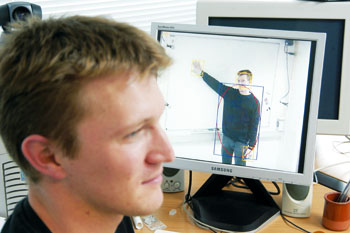 ---
© J. Wallace/INRIA
Gravir is responsible for inventing fundamental techniques in the field of "reinforced monitoring." These "intelligent cameras" can not only detect and monitor the movements of a human being, they can also record the position of the person's body, hands, and face.
---
Another impressive project is the "intelligent office." In the context of the European IST2 FAME (Facilitating Agent for Multicultural Exchange) program, Gravir's researchers are working on a system that differs from the "interactive surface," but is still designed to equip conference rooms. This computer system can film meetings by automatically selecting the most suitable views–wide angle, close focus, etc.–taking into account both movement within the room and the people speaking.
Last but not least, Inria Rhône-Alpes' car park has itself been transformed into an experimental area for this type of visual identification process. It is being used to test a surveillance network, "Parkview," with six cameras. The goal is to continuously monitor the positions and movements of vehicles and human beings in the area, to one day be able to communicate this data to a driverless "cybercar" vehicle in real time, so that it can park itself automatically.
Vahé Ter Minassian
Notes :
1. GRAVIR stands for "Graphics, vision and robotics" (CNRS / Institut national de recherche en informatique et en automatique (Inria) / Université Joseph Fourier / Institut national polytechnique de Grenoble (INPG) joint lab).
www-gravir.imag.fr
2. Information Society Technologies: View web site