MICA
A new International Unit in Hanoi
Inaugurated in 2002, the Multimedia, Information, Communications and Applications Center (MICA) is the result of years of commitment on the part of French and Vietnamese governments and academics to develop a top-level laboratory in communications research in the South Asian capital.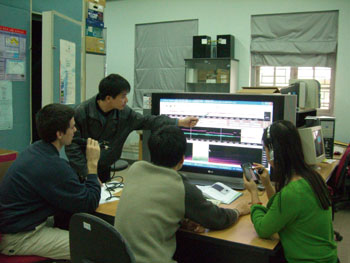 ---
© E. Castelli
French and Vietnamese researchers analyzing speech data at the MICA center.
---
When Eric Castelli, professor of communications, welcomed Vietnamese doctoral student Pham Thi Ngoc Yen to the Grenoble Polytechnic Institute (INPG) in 1991, he did not realize how far this collaboration would take him. Today, their efforts have led to the creation of a CNRS international research unit, in association with the Hanoi Polytechnic Institute (IPH) and the INPG. It all started in 1997 with the creation of two masters degrees, one in Instrumentation and Systems Control, the other on Information Processing and Communications. Then an assistant director of her department, Dr. Pham invited her former thesis supervisor to accompany the Hanoi Polytechnical Institute's new academic project. The need to complement these programs with research facilities was rapidly felt. Vietnam was developing rapidly and had decided to focus public research credits on high tech and computer sciences. With the Vietnamese government strongly involved in the project–and contributing 80% of the funding–MICA was established. Pr. Nguyen Trong Giang, a member of the IPH's managing team and director of its graduate school, was named head of the laboratory. Computer manufacturer Hewlett Packard and the Grenoble INP donated powerful computer material and office furnishings. CNRS, for its part, detached Dr. Castelli, who was named vice director for MICA's scientific research. In 2004, an evaluation committee rated the laboratory very positively, opening the way for it to become, in 2006, CNRS's eleventh international unit, the second in Asia. Already a partner in various European projects, MICA will now be able to apply for French funding.
Its teams' work on multimedia–the simultaneous use of different types of information (sound, speech, image, video, text), addressing specific aspects of speech processing in Vietnamese (automatic synthesis and recognition for human-machine dialogue)–has attracted researchers from numerous Asian and European countries. "In France, many laboratories deal with refining the exploitation of one type of information at a time: natural language processing, image processing, etc. We choose instead to consider globally all information that is necessary for man-machine dialogue, using image, sound, and text at the same time, and to focus on their articulation and interaction."
According to Dr. Castelli, the close knowledge that Vietnamese and French researchers have of one another's culture has favored communication and allowed the team to navigate its cultural diversity with ease. The gradual opening of Vietnam in the mid 80s led students to seek an education outside the country. Historical ties with the former colonial power made France an obvious choice. "As a student, I had many Vietnamese colleagues who became friends. We know them and they know us," explains Castelli. Even before the "renovation," the reforms that eased the country's borders open, the Asian country maintained relations with France's academia. "CNRS was present even in the most difficult periods," says Dr. Min-Hà Pham-Delègue, head of the Asia-Pacific Division at CNRS' European and International Relations Office. Its partnership with the Vietnamese equivalent of CNRS, the Academy of Science and Technology, dates back to 1983. The current wave of projects, she notes, were induced by the Summit of French-speaking countries, held in Hanoi in 1997.
"Obviously, we are not in an even relationship. We are here to help and to train. But Vietnam is not a long way from becoming an equal partner," explains Dr. Pham-Delègue. Dr. Castelli believes that the country still needs assistance at three levels, "to enhance the level of its education, to create true research labs and to develop their industry." Part of MICA's activities led by Pr. Pham Thi Ngoc Yen, head of applied research at the lab, addresses this last issue. Scientists are developing complex computer systems that measure, control, and operate plants, while also helping companies adapt to these new production processes. CNRS is pleased to conclude such a prestigious partnership with the Hanoi Polytechnic Institute, an institution that has taught more than its share of government officials. "A success story like MICA's promotes France's presence in Vietnam. And scientific collaboration is a door that opens onto other types of partnerships," enthuses Dr. Pham-Delègue.
Marianne Niosi