Horizons
Franco-German Cooperation : Ties that Bind
The history of the Franco-German scientific relationship is a long and fruitful one, dating back to 1971, when the first agreement was signed between CNRS and the Deutsche Forschungsgemeinschaft (DFG) which funds and promotes research in all fields of science and humanities for German universities. Between 2001 and 2004, a series of agreements was signed between CNRS and DFG and the four institutions that oversee public research in Germany. One of these institutions is the Max Planck Society (MPG), which comprises 80 institutes carrying out basic research. The Helmholtz Association (HGF), on the other hand, is a community of 15 scientific-technical and biological-medical national research centers that have been commissioned with pursuing long-term research goals on behalf of the state and society. The Leibniz Association (WGL) is made up of 84 institutes while the Fraunhofer-Gesellschaft (FhG) comprises 58 institutes and specializes in applied research and innovation. Together, these four research organizations constitute the country's most important non-academic public research centers.
Germany is the preferred European destination for CNRS researchers. In 2004, German laboratories received 5000 visits from CNRS researchers. This represents 12% of CNRS research travel worldwide for the same period, and is equivalent to having 110 CNRS researchers in Germany every single working day. These numerous exchanges translate into an increasing number of researchers who pursue scientific careers in the other country: 212 current permanent CNRS employees are of German nationality.
To further enhance this tendency, a recently created exchange program (ATIPE/Nachwuchsgruppen) between CNRS and the Max Planck Society (Germany's closest equivalent of CNRS), allowed young researchers to develop their own projects and set up their own research groups at the partner institution for a five-year period. A recent survey shows that having participated in this program substantially bolstered these researchers' careers.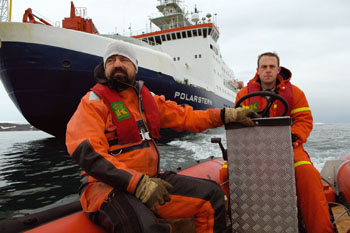 ---
© P. Charles-Dominique, C. Delhaye, A. Gonin/CNRS Photothèque ; Max-Planck-Gesellschaft ; K. Rethmeier/CNRS Photothèque-TU Berlin
Aboard the German icebreaker Polarstern for the 2006 Drake mission.
---
As for scientific production, collaboration with Germany is CNRS's second most prolific relationship with foreign partners (after the US). CNRS and German laboratories co-author more than 2000 publications a year. Moreover, joint scientific co-production by the two countries is increasing at a faster rate than individual production in Germany and France.
Many bonds and collaborations between these two countries' researchers are also the direct result of programs developed by CNRS' Office of European and International Relations. These include PICS (International Program for Scientific Cooperation), LEAs (European Associated Laboratory), GDREs (European Research Network) and UMIs (International Joint Laboratory). Franco-German cooperation encompasses all disciplines, with particular emphasis on social sciences and economics (14 of the 47 projects). Most of the Franco-German collaborations involve other partners; thus 19 of the 23 GDREs and 6 of the 13 LEAs with Germany are also multilateral.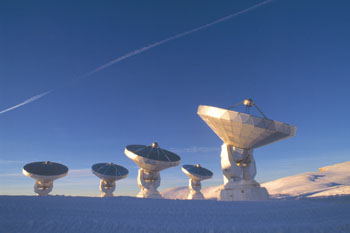 ---
© P. Charles-Dominique, C. Delhaye, A. Gonin/CNRS Photothèque ; Max-Planck-Gesellschaft ; K. Rethmeier/CNRS Photothèque-TU Berlin
IRAM Interferometer in the Alps
---
The shared usage of large equipment for nuclear and particle physics research is another aspect of this cooperation. This includes the collaboration between the German lab GSI (Gesellschaft für Schwerionenforschung, Helmholtz Association) and France's GANIL heavy ion accelerator (CNRS/CEA). One of the best-known Franco-German initiatives is the IRAM (Institut de Radio-Astronomie Millimétrique), mainly focused on the study of cold matter, founded by CNRS and Max Planck in 1974. IRAM consists of two observatories, one in the French Alps, the other in the Spanish Sierra Nevada (Spain is now the third partner of this collaboration).
Other examples include the German Electron Synchrotron DESY in Hamburg (Helmholtz Association), one of the leading accelerator centers in the world. This center is regularly used by French researchers in fundamental particle physics together with the Hamburg Synchrotron Radiation Laboratory, as a source of light for material and biophysical work. The HESS project (High Energy Stereoscopic System), which brings together CNRS, the Max Planck Society and a number of other partners, explores the sky in the range of gamma rays through four telescopes located in Namibia, currently the most technologically-advanced equipment for this type of research. In yet another area, the COPAS cooperation (Canopy Operation Permanent Access System) between the German university of Ulm and a laboratory at the Musée National d'Histoire Naturelle, among other partners, aims to offer permanent access to the canopy of the forest in French Guiana.
In chemistry, a new type of collaboration has been carried out by CNRS and DFG, which issued a joint call for proposals (see the article in our Newswire section). With the collaboration of the French Ministry of Foreign Affairs (MAE), another call for proposals in "green chemistry" is currently open to attract scientists or students from French and German institutions to this new area of research. CNRS and German laboratories are also strongly involved in "Procope," an exchange program jointly funded by the French and German governments.
Germany and France are the EU's most successful countries in terms of financial support as well as of supported and coordinated projects. As such, they are present together in a large number of European integrated projects, networks of excellence, ERAnets and technological platforms of the FP6.
The future of this well-established relationship is based on new joint initiatives and the continued willingness to renew the most successful and promising research collaborations. At the summit meetings between the French and German governments (Potsdam, July 2005 and Berlin, March 2006), both countries expressed their wish for a greater, more structured collaboration through joint laboratories that would focus initially on biology and information technology (where programs such as the European Internet search engine Quaero have been successful). Given that Franco-German projects are often at the forefront of European research, this plan makes perfect sense.
Laurence Remila
in figures
> 54.638 billion: Total budget for the R&D sector in Germany in 2003 (2.6% of the GDP).
> 480,004 people working in 2002 in the R&D sector.
> 4287 Franco-German joint scientific publications in 2005 (52% of which are with CNRS).
> 23 European / International Research Networks.
> 13 Associated European Laboratories.
> 7 International Programs for Scientific Cooperation.
> 4 Network Research programs with the French Ministry of Foreign Affairs.
> 212 CNRS permanent staff members are German.
Zoom
THE CNRS OFFICE IN BONN
The mission of the Bonn office of CNRS, headed by Daniel Bougeard, is to strengthen the ties between CNRS and German research organizations and to oversee the collaborative projects already under way, in conjunction with CNRS' Office of European and International Relations.
The office also ensures that the scientific community is informed of the results of Franco-German cooperation and does its best to encourage the mobility of researchers, with a special emphasis on younger researchers.