Biodiversity : The Earth's Insurance Policy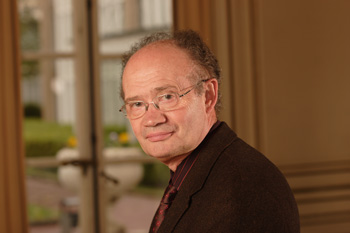 ---
© C. Lebedinsky/CNRS Photothèque
Bernard Delay, Scientific Director of the Environmental Sciences and Sustainable Development Department.
---
Biodiversity, a word frequently used these days in scientific, political, and media circles, is increasingly associated with sustainable development. More than just a buzz-word, biodiversity affects everyone and has genuinely become synonymous with the Earth's insurance policy.

But it is also a broad term that encompasses a variety of notions. The first one is spectacular biodiversity, epitomized by a beautiful flower, a charismatic animal, or a magnificent landscape. This is what is often put forward in order to justify taking action to protect or restore environments. There is also economically useful biodiversity. This is just as likely to concern microbial communities on cheese as medically useful molecules, or even genetic resources of interest to the agricultural industry. It is often used to justify the research we do. Finally, there is the biodiversity that we might call ordinary, the biodiversity that can be found in all biological systems: from the biodiversity found at the roots of a plant (the rhizosphere) which is responsible for its growth, to the biodiversity that creates the incredibly varied landscapes of our planet. Not generating as many headlines, this latter form of biodiversity is actually the most important, since it plays an essential role in the proper working of ecosystems and in the well-being of our societies. Indeed, without it, the other two types of biodiversity would not exist.

Although vital to our planet, biodiversity is deteriorating the world over. To let the situation get worse through ignorance, lack of long-term political vision, or plain greed is to jeopardize the future of humanity. But it is also important not to give in to total pessimism, for biodiversity needs every human to play their part, whether it be globally or locally, if the trend is to be reversed. For their part, scientists have a major role to play in combating the threats to biodiversity. They will need to gain a better understanding of it so that the action they take is well thought-out and based on sound scientific knowledge. It is for all these reasons that biodiversity, a long neglected topic, has over the past few years become a worldwide scientific priority. The goal is to understand how it impacts ecosystems, and thus our own species. It will therefore be necessary to describe biodiversity and quantify it, analyze its dynamics, assess its economic and sociological value, while understanding the political issues that surround it. CNRS is well aware that studying biodiversity requires a multidisciplinary approach, and has included it as one of its top priorities. It forms one of the mainstays of CNRS' new scientific department, "Environmental Sciences and Sustainable Development" (EDD), which has two fixed objectives: to improve our basic knowledge of biodiversity, and to create the multidisciplinary approach so vital to our understanding of it.

At an international level, it was after the 1992 Earth Summit in Rio that countries and organizations across the planet began to take action with varying amounts of vigor and commitment. The last eighteen months have seen three major events, starting with the "Biodiversity: Science and Governance" conference held in Paris in January 2005 under the auspices of the French President and Unesco. The second was the publication, in 2005, of the Millennium Ecosystem Assessment. This study, carried out by around a thousand scientists, indicated how ecosystem alterations could result in a major deterioration of Mankind's well-being, particularly for the poorest populations. The third event was the faltering but nonetheless genuine steps of Imoseb (International Mechanism Of Scientific Expertise on Biodiversity), in February 2006 in Paris.

CNRS has a number of assets: its staff and its strategy, its alliances with universities and other bodies, and its support to the French Institute for Biodiversity (IFB, Institut français de la biodiversité) and to the Genetic Resources Bureau (BRG, Bureau des ressources génétiques). It is now in a position to take up the challenge of international research and technology transfer in this vast and important field.