CNRS international cooperation
The facts and figures
What is it exactly that scientists do when they collaborate and cooperate? CNRS monitors the nature of international scientific collaboration, establishing a basis for defining and developing science policy.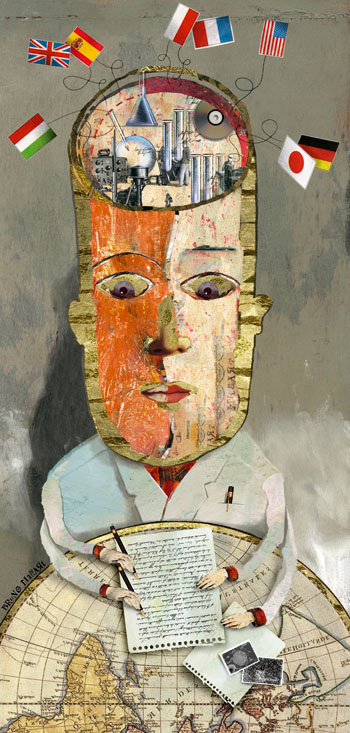 ---
© Bruno Mallart
---
How do you quantify international collaboration in research? For CNRS, this problem falls to Jean-Jacques Faure and his Strategy Prospective Unit.1 The principal indicators they use are number of publications and nature of exchanges between scientists (trips, visits, etc.). Publications can be considered markers of production, while physical movements of researchers reflect activity. Publications listed in the Science Citation Index are representative of overall scientific progress, and the proportion of these papers co-authored by CNRS and other scientists reflect how collaboration contributes to such progress. Among the 800,000 papers published annually worldwide, France produces about 5%.

CNRS: a powerhouse of French publication

CNRS is responsible for approximately half the French output, and is therefore as productive as several medium-sized industrialized countries. But CNRS output is not evenly distributed across disciplines. It is particularly strong in physics and chemistry, but contributes to a smaller proportion of France's publications in biology and medicine, as work in these areas is also funded through INSERM and INRA.2 Faure emphasizes that this type of bibliometric measure is particularly useful for the exact sciences, where number of publications is roughly proportional to results obtained, production or scientific progress, but less informative in social and human sciences, where publication patterns are quite different.

The international dimension

The number of papers written in countries with established research traditions (e.g., France, the US, Great Britain or Germany) is increasing at a slow rate, between 0 and 2% each year. However, the output of collaborations between CNRS and these countries is growing at a faster pace; for example, the number of CNRS-USA co-authored papers is growing around 5% annually. Currently, a paper is produced by a CNRS-American collaboration every hour of the working day. Other major CNRS partners are its European neighbors: Germany, the UK, Italy and Spain. Generally, the volume of collaborations between CNRS and other countries is proportional to that country's overall research output with some exceptions. Germany collaborates more with CNRS than might be expected from its publication ranking. The same is true for other nations physically or culturally close to France. Particularly striking is CNRS' leading position in regards to new members of the European Union: Poland ranks 20th on the publication list, but is CNRS' 11th largest partner. Relations with the Czech Republic and Hungary show a similar pattern. In contrast, while Japan ranks second in the world for publications, it is only eighth on CNRS' list of partners. Nevertheless, collaboration with Japan is growing faster than collaboration with most other major CNRS partners.

Overall, Faure points out that close analysis of the figures provides convincing evidence of an increasing tendency towards cooperation, whether at a national, European or international level. Currently, 20% of French co-publications involve European collaborations, and 25% involve countries outside Europe. CNRS researchers appear to be more internationally minded than researchers from other French scientific institutions, with a higher average percentage of co-publications.

Scientific mobility

Other indicators can be used to gauge international cooperation including budgets and funding, number of patents, framework contracts, analysis of work with shared scientific equipment (like particle accelerators and telescopes), and travel. Faure and his team have found travel particularly revealing. They classify trips according to length, purpose and destination. Approximately half the foreign trips made by CNRS scientists are to meetings and conferences. On any working day, 269 CNRS staff members are in the US, and 110 in Germany. Staff travel patterns also reflect France's historic links, as CNRS contributes to the scientific development of various countries culturally linked to France. Unsurprisingly, the main destination for CNRS scientists is the European Union, especially countries that are major players in research. All indicators confirm that CNRS is growing ever more outward, making the world a smaller place.

Alex Edelman
Notes :
1. Direction of European and international relations (DREI).
2. Inserm and INRA: The National Institute for Health and Medical Research and the National Institute for Agricultural Research.