ERA-more
Making foreign researchers feel at home
France now offers foreign science researchers an unrivalled structure of assistance both before and during their stay, with dedicated staff on hand to help with every administrative and practical issue.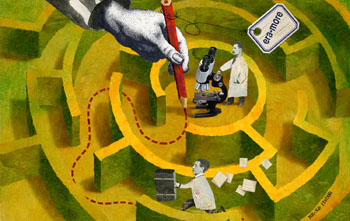 ---
© Bruno Mallart
---
Being invited to take up a research post in a foreign country can all too often turn to disappointment when trying to deal with local bureaucracy and fragile living conditions. Language and culture differences, otherwise part of the attraction, then only exacerbate the problem. The French government recognized such hurdles caused unacceptable personal distress and also threatened France's position as one of the leading centers of international scientific exchange.

Thus in 1993 it set-up the publicly-funded Fondation Kastler, charged with eradicating the administrative and practical difficulties encountered by visiting foreign researchers.The foundation's director, Antony Mauvais, is proud of the remarkable turnaround he and his staff of seven have achieved in 13 years of existence. "I cannot think of a practical or administrative hassle that we can't now resolve," he confidently claims.

The foundation has driven significant legal changes to the status of foreign researchers previously stuck in a bureaucratic no man's land regarding visa and residency regulations, social security, and work permits. In 1998 France introduced a unique 'scientific visa,' granting easy entry to research candidates and their accompanying families. It also allows a researcher's spouse, whatever their profession, the right to work. The visa later became the model for a European Union scientific visa, introduced last October. "We negotiated with private health insurance companies to establish a single contract for medical coverage applicable to all foreign researchers on non-salaried contracts," recounts Mauvais. A separate agreement gave foreign researchers of any nationality access to a bank account in France.

The EU Commission subsequently called upon the expertise of the Kastler Foundation to help draft its program of assistance to foreign researchers in member states. Titled Era-More (for 'European Research Area-Mobile Researchers'), and launched in June 2004, it provides for national support networks to help visiting researchers settle comfortably in their new environment. Application of the program is at the initiative of individual member states. France is a leading participant, with 23 regional support agencies–known as mobility centers. Each center in France, coordinated at a national level by the Kastler Foundation, ensures that foreign researchers find answers to problems like housing, schooling, recognition of academic diplomas or medical care. They also organize language classes and social events.

In practice, a researcher invited to work or study at a French laboratory or institution, whether private or public, must first contact the Kastler Foundation (details below) and establish a personal dossier, which can be done online. The foundation guides the researcher, in either English or French, through the necessary administrative steps and issues an individual 'Guest Researcher Card' for future contact. It will then direct the visitor to the appropriate local mobility center.

The Kastler Foundation remains on call for any problem that might arise during a researcher's stay. Last year, its legal department successfully intervened in 800 cases involving administrative hiccups. Mauvais estimates the number of foreign researchers on temporary posts in France in 2005 at about 10,000. "Of those, more than 3300 registered with us last year, but we're keen to increase those figures," he says.

Graham Tearse

> For further information online:

Fondation Kastler: http://www.fnak.fr

Era-More: http://europa.eu.int/eracareers/index_en.cfm?l1=4

A welcoming BACE in Paris

The greater Paris region attracts more foreign researchers than any other in France. The BACE,1 the largest of France's 23 Era-More regional mobility centers, is the primary support agency for those posted in and around the capital. Created in 2002, funded exclusively by the city and regional authorities, it helped more than 1500 foreign researchers during 2005, providing accommodation for 845. BACE director Dr. Véronique Gillet-Didier, herself a former itinerant researcher, says its help extends to every issue. "Researchers can often find themselves isolated, not least through language barriers. Our job is to make sure their stay, in all aspects, is a happy one. Many will become leaders in fields of science and we hope in turn they will send their own students back to us."

GT

1. Bureau d'accueil des chercheurs étrangers (Welcoming office for foreign researchers).