PRAXIM
The Surgeon's GPS
It might have been a coincidence, but on its tenth year anniversary, Praxim was awarded the highly-coveted European IST (Information Society Technologies) Grand Prize.1 The company was rewarded for software that enables computer-assisted knee surgery.
In just ten years, Praxim has become one of the most innovative companies in perfecting computer-linked techniques designed to assist doctors and surgeons with their interventions, ranging from inserting vertebral screws to prosthetic hips or even dental implants. Today, the company offers no less than 27 different computer applications. Over one hundred hospitals and clinics worldwide are equipped with the technology and several thousand patients have benefited from it.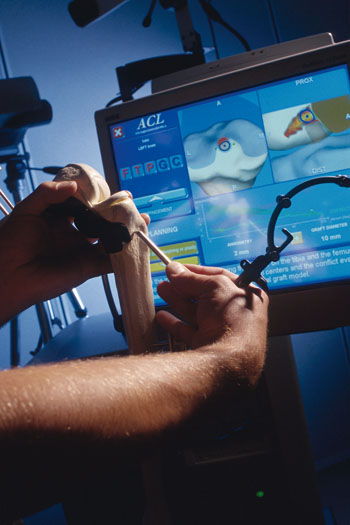 ---
© E. Perrin/CNRS Photothèque
Praxim was awarded a European prize for its computer-assisted knee surgery software.
---
The project originated in 1985 at the Modeling and Cognition Imaging Technologies laboratory (TIMC)2 in Grenoble. Researchers there had already signed contracts with several companies to develop their know-how in the area of computer-assisted surgery. "After every contract we signed, we had to start all over again for the next project," remembers Philippe Cinquin, a researcher at TIMC.

This is what spurred the creation of Praxim in 1995; Researchers wanted to ensure that the advances they were making would be saved within a single company. Things started to move fast from that point on: In 1999, Praxim launched an autonomous computer workstation for hospitals on which multiple software programs could be run, depending on the type of surgery performed.

"It acts like the surgeon's GPS," says Philippe Cinquin. Praxim's digital imaging techniques lets the surgeon navigate in real time through the patient's body, giving him accurate readings of where his surgical instrument is down to the nearest millimeter. There are significant advantages to computer-assisted surgery, as more precise surgical actions mean less trauma for the patient and can often result in a more effective operation overall.

But this year, Praxim has set even more ambitious goals. In close collaboration with the TIMC laboratory, it has developed knee prosthesis implant and anterior cruciate ligament repair software that comes equipped with infrared cameras to follow the surgeon's instruments. This eliminates the need for pre-op images (scanner, MRI, radiology, etc.) used to put together a comprehensive map of the patient. Today, strengthened by its numerous partnerships with laboratories and hospitals around the world, Praxim has no intention of slowing down. The company is currently working on mini-robots to assist physicians or surgeons with various procedures like cutting bone fragments or endoscopy.

Julien Bourdet
Notes :
1. The most distinguished prize for innovative products and services in the field of information Society Technologies.
View web site
2. Techniques de l'Imagerie, de la Modélisation et de la Cognition (CNRS / Université Joseph Fourier / Institut national polytechnique de Grenoble joint lab).