PHYSICAL GEOGRAPHY
Revisiting planet Earth
At the Physical Geography Laboratory (LGP)(1) in Meudon, a team of thirty researchers in the related fields of sedimentology, geomorphology or geochemistry are busy scrutinizing our planet with one common objective: To incorporate into their work both climate change and the human impact on the environment.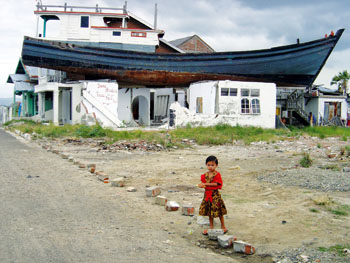 ---
© F. Lavigne/CNRS Photothèque – LGP
Near the epicenter of the earthquake of December 26th, 2004, part of Indonesia was devastated by the subsequent tsunami. The damage gives some idea of the tsunami's power.
---
Charles Lecoeur, Director of the Physical Geography Laboratory explains the novelty of this approach: "Physical geography has undergone a radical transformation in the past few years. We can no longer simply observe a phenomenon, whatever it may be. We now need to understand how it continues to evolve under the influence of climate and social changes." So who are these new geographers?
A first prerequisite for these researchers is extensive traveling. They have gone to where the changes are the most noticeable, from Germany to Indonesia to places as far removed as Siberia, to study riverbanks or glaciers and gather precious samples to bring back to the Meudon-based center for analysis.
The LGP brings together experts from a variety of fields: Sedimentology of course, but also geomorphology, geochemistry, palynology (the study of pollen), malacology (molluscs), etc. These researchers, engineers, and Ph.D. students are divided into three teams: "Slopes and rivers," "Coastal systems," and "Quaternary environments."
---
© V. Jomelli/CNRS Photothèque – LGP
Moraines are accumulations of rock which have been carried and deposited by a glacier. The photo shows moraines in the Charquini, in the Cordillera Real (Bolivia). They make it possible to find out how glaciers evolve under the influence of climatic variations.
---
What links them all is that they have incorporated climate change and human environmental impact into their research. In mountainous regions like the Alps or the Andes, for instance, the team investigates the way glaciers respond to climatic variations, and the subsequent effect this has on slopes. "In the Alps, by carrying out detailed analysis of the ground and of certain plant species found there, we can work out the frequency and intensity of avalanches and mudslides which occurred in the past, and improve our understanding of their causes," explains Vincent Jomelli. This opens up the possibility of mapping hazard-prone areas within the context of global warming.

In Bolivia, LGP researchers are studying the Beni, a tributary of the Amazon, within the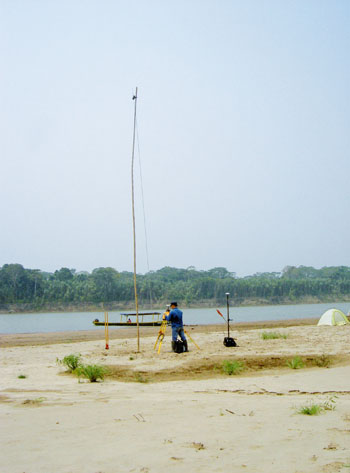 ---
© E. Gautier/CNRS – LGP
Bathymetric and topographic measurements on the Rio Beni, in the Amazon, can estimate its mobility.
---
framework of an IRD program.2 This extremely mobile river erodes its banks which are naturally rich in mercury. This toxic chemical element moves up through the entire food chain to eventually reach humans. In France, these same researchers are studying the Loire, a river that has gradually been altered by human activity. "Our goal is to preserve fragile ecosystems, like wetlands, and protect the population against flooding," explains Emmanuèle Gautier, heading this research.

Yves-François Thomas knows a lot about the effect humans have on the environment, especially when it comes to coastal areas. As leader of the "Coastal systems" team, one of the areas he keeps under close watch is the bay of Cartagena, in Colombia. "Today, this bay is subject to very heavy sedimentation due to two artificial structures: The submerged Bocagrande breakwater and the Dique channel," he explains. "These deposits are affecting the depth of the shipping channel and could have a disastrous effect on the town's economy." On-site observations and numerical modeling make it possible to predict the future development of this process, and will help local political leaders take the necessary measures.

But in order to fully understand the present, geographers at LGP also look to the past for answers. Working with archaeologists from INRAP,3 researchers in the "Quaternary environments" team, led by Jean-François Pastre, reconstruct natural environments from the past, and analyze evidence of climatic variation, as well as indirect traces of human activity. "Ten years ago, geography textbooks hardly made any reference to the consequences of human impact on paleoenvironments over the past 10,000 years," Lecoeur observes. "Things are very different today, and CNRS has played a leading role in this transformation." Physical geography is changing fast, and Mercator's descendants have truly come of age.4

Fabrice Demarthon

MONITORING TSUNAMIS

On December 26th, 2004, huge waves hit Southeast Asia and devastated its coasts, claiming over 250,000 lives. By a remarkable coincidence, ten days before the disaster, a team from LGP and the Géolab laboratory in Clermont-Ferrand,1 led by Raphaël Paris and Franck Lavigne, had moved to Indonesia with the aim of studying tsunamis. Today, the laboratory is an integral part of the Tsunarisque program, which brings together French universities, research organizations and Indonesian laboratories. Its aim is to improve prevention methods by using on-site observation and modeling to draw up accurate maps of hazard-prone areas.

F. D.

1. Laboratoire Géolab (CNRS / Université Blaise Pascal joint lab).

http://www.tsunarisque.cnrs.fr
Notes :
1. Laboratoire de géographie physique (CNRS / Université Paris-I joint lab).
2. Institut de recherche pour le développement (Research Institute for development).
3. Institut national de recherches archéologiques préventives (National Research Institute in Preventive Archaeology).
4. Flemish geographer (1512-1594) who gave his name to a map projection in which longitude is represented by equidistant parallel lines, and latitude by lines perpendicular to the lines of longitude.