Arnold Migus was born in Paris on October 1, 1948. He is a graduate of Ecole Polytechnique, received a master's degree in Pure Mathematics in 1972, and a doctorate in Physics in 1977.
He worked the National Center for Space Studies (CNES) as a research associate from 1973 to 1977 and then at Bell Labs in the United States from 1978 to 1979. Upon his return to France, he joined the Ecole Polytechnique's Laboratoire d'Optique Appliquée (LOA) as a researcher (1979 to 1983), and then CNRS (in 1983) before being promoted to senior researcher at CNRS in 1985.
In addition to his research, Arnold Migus is a teacher: he lectured at Université Paris 11 from 1982 to 1992, as well as teaching at Ecole Nationale Supérieure des Télécommunications and Ecole Nationale Supérieure des Techniques Avancées from 1982 to 1993.
After a visiting researcher position at the University of Michigan in 1994, he returned to France to direct the Laboratoire pour l'Utilisation des Lasers Intenses from 1996 to 2003. He then became director of the Institut d'Optique[1]. He also founded the Institut Lasers et Plasmas in Bordeaux, which he directs.
Arnold Migus is a specialist of lasers and their applications (in optics, physics, chemistry, astronomy), especially femtosecond lasers and ultrafast and ultraintense laser science. He is also interested in the use of lasers and physics in thermonuclear fusion, in artificial stars, and wave propagation in a random medium. He has published more than 130 articles in international refereed journals.
He was a member of the National Committee of Scientific Research from 1995 to 2005, and chaired the board of the Engineering Sciences department from 2000 to 2001. He has been on the scientific advisory board of the Ministry of Defense since 1998. As a Fellow of the Optical Society of America, he is Topical Editor for Optics Letters.
Arnold Migus has consulted for the laser industry and was a scientific advisor to the French Atomic Energy Commission (CEA). He launched two projects at LULI which received prizes for innovative business creation: Laselec in 2001 and Phasics in 2003. He was a founder and member of the board of Optics Valley, chairman of the scientific board of "Pôle Optique Rhône-Alpes", board member of "Aquitaine Laser et Photonique et Applications". He is also on the executive board of the comptetitiveness pole System@tic Ile-de-France.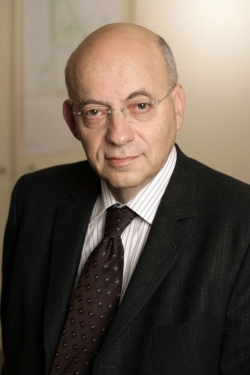 ---
© CNRS/C.Lebedinsky
---
Notes:
[1] Institut d'Optique is a French institution of higher education and research. Its main branches are an engineering school (SupOptique or Ecole Supérieure d'Optique) and the Charles Fabry laboratory, a joint research unit bringing together researchers from CNRS and Université Paris Sud.