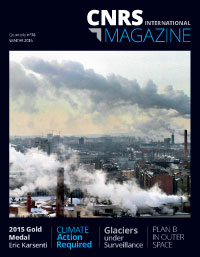 Browse the 38nd issue of the CNRS International Magazine


Download the PDF version of the 38nd issue of the CNRS International Magazine (2,4 MB)

Between November 30 and December 11, the world will come together in Paris for the Conference of the Parties to the United Nations Framework Convention on Climate Change, otherwise known as COP21. In the run-up to what could be a historic meeting, we explore the ongoing research by scientists from all disciplines.

Also in this issue, the complexity of remotely repairing spacecraft and probes; turning natural poisons into drugs; cybersecurity on airplanes; perovskites and photovoltaics; the rise and fall of innovation, the E2P2L laboratory on sustainable chemistry; the China CNRS office is 20 years old, and much more.

IMPORTANT: This is effectively the last issue of CNRS International Magazine. The publication is replaced by cnrsnews.fr, a dedicated scientific information website accessible on all platforms (please read our mission statement). All existing subscribers to the online version of CNRS International Magazine will automatically receive monthly newsletters.

To subscribe to our monthly newsletter service, please click here.