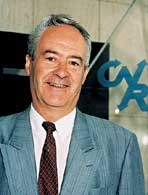 Jean-Claude Bernier, a university professor, has been the director of the Department of Chemical Sciences since June 27, 1996.

Jean-Claude Bernier was born on August 10, 1939. He holds an engineering degree from the Ecole Nationale Supérieure de Chimie in Lille, France, and a doctorate. He joined the CNRS in 1961 as research associate at the Centre d'Etudes de Chimie Métallurgique in Vitry-sur-Seine, France, and became research director at the Inorganic Chemistry Laboratory of the Faculty of Sciences of Orsay in 1966. He left for Strasbourg in 1973 where he was appointed lecturer and then professor (1977) and finally became chairman of the Materials Sciences Department (1980-1984) at the Ecole Nationale Supérieure de Chimie in Strasbourg. He was the director of a CNRS research unit specialized in mechanical and magnetic properties of ceramics and frits from 1976 to 1988.

In keeping with his career as a researcher and teacher, Jean-Claude Bernier was appointed director of the European Higher Institute of Chemistry in Strasbourg (EHICS) in 1987, a position that he held until 1995. At the same time, he participated in the creation of the Institute of Physics and Chemistry of Materials of Strasbourg (IPCMS), a CNRS/Université Louis Pasteur/EHICS mixed research unit of which he became the assistant director in 1988.

An expert in the field of material sciences, Jean-Claude Bernier has been involved in high-level theoretical research for the past 30 years, supported by industrial applications in the area of electronics. These applications deal with new means of synthesis or new solid-state structures and their characterization, the understanding and improvement of materials for electronic components and the industrial application of new magnetic materials or processes for the treatment of industrial waste. His research results have appeared in over 130 publications.

Very concerned by these issues, he has ensured the scientific responsibility of numerous research contacts with industry or major research organizations. He has contributed to a dozen patents and was at the origin of the creation of the Centre de Recherche, d'Innovation et de Transfert Technologique (CRITT Matériaux), inaugurated in 1988 in Schiltigheim. He was the scientific director from that time until 1991.

As chairman of the board from 1990 to 1992, he managed the Polytechnicum of Strasbourg, a federation of nine engineering schools and technical institutes. From 1992 to 1995, he presided over the European University Pole of the city and, in this capacity, coordinated the "University 2000" plan at the regional level. Interim director of the Ecole d'Applications des Hauts Polymères (EAHP) from 1993 to 1995, he has been the director of the Ecole Européenne de Chimie, Polymères et Matériaux of Strasbourg ever since, a merger of EHICS and EAHP at his instigation.

In addition to his multiple activities as teacher and researcher, Jean-Claude Bernier acts as a consultant to major industrial groups and ministries. He is an Officer of the Ordre des Palmes Académiques, Chevalier of the French Legion of Honor and Chevalier of the National Order of Merit.