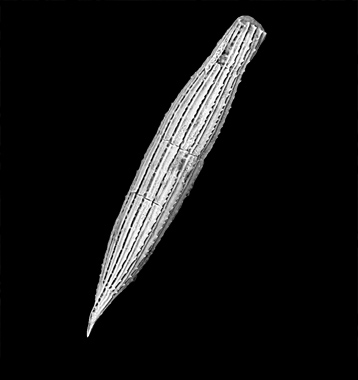 ---
© Mordret S, CNRS/UPMC, EPEP team.
Scanning electron microscope photograph of the ciliate Tiarina with its 100-150 micrometer calcium carbonate (calcareous) shell containing the Symbiodinium cells (not visible here)
---

---
© Colin S, CNRS/UPMC, EPEP team
Confocal microscope image showing the inside of the ciliate Tiarina, containing between 10 and 20 cells of the microalga Symbiodinium. They are visible with their red chloroplasts and blue nuclei. The ciliate Tiarina (the host) whose nucleus is visible in light blue, has cilia on its surface, which enables it to swim. Scale bar: 20 micrometers.
---
Notes:
1One micrometer is 10-6 m, or 0.000 001 meters.
Bibliography:
The symbiotic life of Symbiodinium in the open ocean within a new species of calcifying ciliate (Tiarina sp.). Solenn Mordret, Sarah Romac, Nicolas Henry, Sébastien Colin, Margaux Carmichael, Cédric Berney, Stéphane Audic, Daniel J Richter, Xavier Pochon, Colomban de Vargas and Johan Decelle. The ISME Journal. 18 décembre 2015.
DOI:10.1038/ismej.2015.211