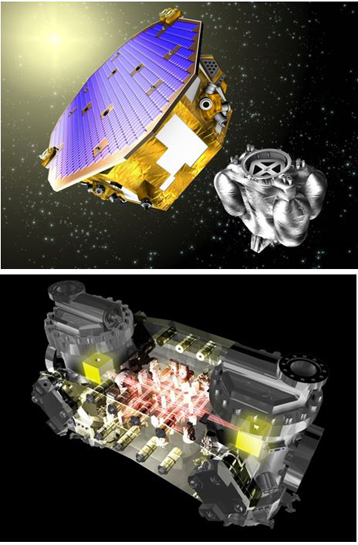 ---
© ESA
Top: LISA Pathfinder and its propulsion module, immediately after their separation (artist's impression).
Bottom: gold-platinum cubes floating inside the satellite, surrounded by the optical bench that makes it possible to measure their position with unprecedented accuracy. This is one example of the technology needed to detect gravitational waves, which will be tested with LISA Pathfinder.
---
More images (videos, photographs) of
LISA Pathfinder
are available
on the ESA's website
.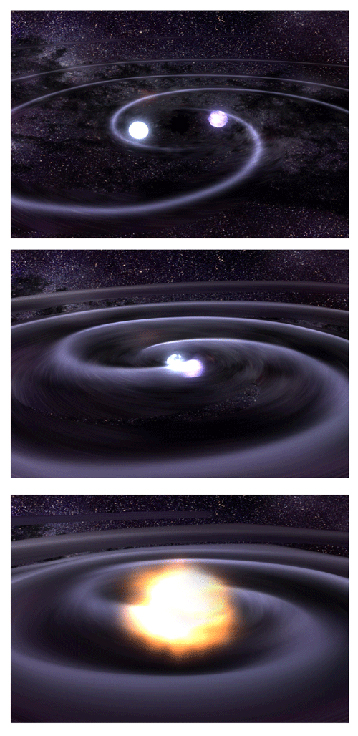 ---
© NASA/Dana Berry, Sky Works Digital
When two neutron stars (or two black holes) closely revolve around each other, they undergo a strong acceleration, which generates gravitational waves. This emission of gravitational waves corresponds to a loss of energy that brings the two stars closer together until they eventually merge (artist's impression).
---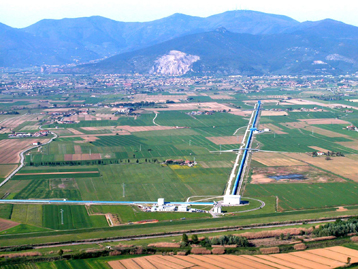 ---
© EGO-VIRGO/IN2P3/CNRS Photothèque
Aerial view of the Virgo gravitational wave detector (near Pisa, Italy).
---
Read more on
http://sci.esa.int/lisa-pathfinder/
.