This high-performance scanner, which cost a total of € 876,000, has been installed in the research laboratories belonging to the French National Museum of Natural History and the CNRS, at the Jardin des Plantes site, and will enable 3D reconstructions of natural science samples, the viewing of fossils embedded in their rocks, the execution of virtual dissections, and so forth. This will contribute to the development and preservation of the Museum's collections and to the promotion of excellence in terms of research. Thanks to this new acquisition, the French National Museum of Natural History (which is one of the oldest French scientific bodies) and the CNRS aredemonstrating their dynamism and are positioning themselves at the centre of a network of national and international partners.
Cutting-edge equipment for collections research and development
Called the "AST-RX", the main objective of the X-Ray Tomography Scientific Access Platform housed by the CNRS UMS(2)/MNHN 2700 "Integrative Systematics Tools and Methods", is to enable the digitalisation of natural science specimens using microtomography and nanotomography. In terms of scientific research, there are numerous worthwhile applications for this: 3D reconstructions that are easy to manipulate, sampling studies at the desired level of magnification, virtual dissections, non-destructive access to internal anatomy, etc. This apparatus will therefore provide a major contribution to the development and preservation of the Museum's collections (which are among the largest in the world). The stakes in terms of disseminating knowledge are just as major, whether in relation to researchers, teaching staff, of even the general public.
Access to internal structures without causing any damage to the samples
Computerised Tomography (CT) scanning enables the digitalisation, exploration and 3D modelling of study objects. What makes this equipment really worthwhile is that it enables high-resolution viewing of all of the structures of samples, thus enabling the exploration of internal structures which were previously inaccessible. Moreover, the technology used is non-destructive and non-invasive, a crucial characteristic for studying natural science collections.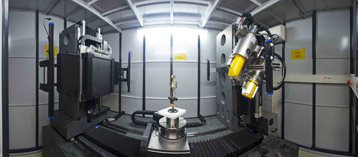 ---
© © Patrick Lafaite / MNHN
Photo CT scan
---
A new perspective on historical and miscellaneous collections
With 68 million specimens in its collections, for over 300 years the Museum has taken an interest in the diverse nature of land materials and living beings, including mankind and its culture. Its research activities consist of devoting effort to a threefold approach:
1 – To complete an inventory and description of biodiversity,
2 – To understand this diversity (the evolution, development and biology of various populations),
3 – To analyse the complex relations between mankind and this diversity.
This new piece of equipment will enable all of these research themes to be developed relying on the study resources provided by the Museum's collections. Scientifically important historic specimens, that have been described and are presumed to be well-known, will be likely to reveal new information in the course of detailed re-examinations using these new imaging technologies.
The Museum, at the heart of international research
For all fields of natural sciences, it will be possible to export digital models in order to carry out complex scientific modelling that will be studied and analysed simultaneously by the international community via IT networks, or so they can be reproduced physically as desired, on any scale, by rapid prototyping on a 3D printer for the purposes of research, disseminating knowledge, exhibiting, or teaching.
The platform, which can be accessed by Museum/CNRS mixed lab staff, will also be made available to scientists and curators who want to digitalise specimens in the Museum's collections or in outside collections, with a view to conducting scientific research, preservation, expert assessment, training and disseminating knowledge.
Its technical capabilities and the sheer range of its applications make this imaging equipment the highest-performancemachine in the natural sciences sector. Bolstered by the experience and skills of several researchers who are already using imaging methods, thanks to this acquisition, the French Museum of Natural History and its partners are now in a privileged position that will make them key players in terms of using and finding practical applications for 3D imaging technologies.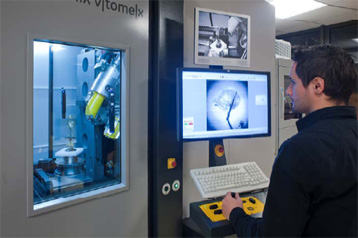 ---
© © Patrick Lafaite / MNHN
Photo CT scan
---
Research projects
There are numerous research projects covering varied topics being run by the various teams at the Museum and the CNRS which are concerned with using conventional CT scans. The huge, rich collections of invertebrates, vertebrates, plants (contemporary and fossil specimens), anthropological items (Museum of Mankind collections), geological samples, and meteorites, are some of the ones that are most in demand for studies using microtomography. Recently, thanks both to this exploration technique and the use of synchrotron light, a 300 million year-old brain belonging to a fish that is a close relative of sharks and rays was identified by scientists from the Museum and the CNRS (Pradel et al. 2009). It was the first time that a fossilised brain that was so old had been discovered. This outstandingly preserved item opens up the way for future research work, particularly when it comes to viewing fine structures that previously were impossible to see using traditional optical techniques.
The fields for investigation are enormous. Now, researchers have completely non-invasive access to the internal structures of their study materials. Consequently, there are numerous examples of types of research requiring access to tomography: study of the endocranial structure of fossil mammals, study of the internal morphology and the evolution of hominid skulls, studies of fossil insects trapped in amber and rock gangues, study of the anatomy and morphology of biomineralised tissues, movement studies of skeleton structures, etc.
This high-performance scanner was acquired thanks to the joint efforts of the Museum, the Regional Council of Île-de-France, the Fondation Simone et Cino del Duca - Institut de France, and the CNRS. Its overall cost was €876,000.
Notes:
1 - X-ray absorption tomography is a non-destructive technique that makes it possible to view sectional 3D images of an object.
2 - Mixed Service Unit.