The first steps taken toward a European Research Area have been accompanied by a reflection on the future of research in Europe's overseas regions and how to facilitate their participation in European community programs. Specifically, how can the tools defined by the Sixth Framework Programme be applied to these regions despite the particularities which set them well apart from mainland Europe.
Active frontiers far from the Old World
Frequently European research finds an ideal natural laboratory in Europe's overseas regions. By emphasizing the strong points of these regions, such as their rich biological endowment, potential for renewable energy, or their geographical and geo-strategic situation, research can transform yesterday's handicaps into tomorrow's technological development and positive international image. Creating an attractive image is crucial in turning the corner from "remote overseas region" to "Europe's active frontier".
The results of a survey carried out for the General Directorate of Research of the European Commission in 2002 and entitled "Research in Oveseas Regions" display the underdevelopment of research facilities and structures in these regions despite the significant investments called for by recent development programs of European research. Only two facilities surveyed qualify as "large-scale facilities" (Astrophysics on the Canary Islands, and Forest in French Guiana), but the work done on regional observatories in the areas of oceanography, seismology, or health justify more such undertakings. Access by these facilities to the ranks of excellence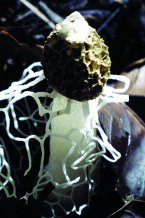 ---
© Pierre-Charles Dominique
Mushroom
---
is blocked particularly by their lack of participation in research networks and a certain weakness of their research capacity. Priority action therefore must be to maintain a critical mass of researchers, to establish more laboratories locally, and to build or strengthen university departments in specific areas of regional excellence. For this to happen, local concerns and expectations must be taken into account in the definition of research objectives, while all of the local university capacity and all of the research organisations present locally must be working together to achieve these objectives.
The Sixth FP calls for special mechanisms to help overseas regions gain access to FP tools such as Integrated Projects* or Networks of Excellence*, most notably via Article 169 of the European Community* Treaty and the system of stairways to excellence. This represents an opportunity to draw on national or regional initiatives to encourage overseas research and to address the problem of image and other problems of development that beset overseas regions.