Precision Drugs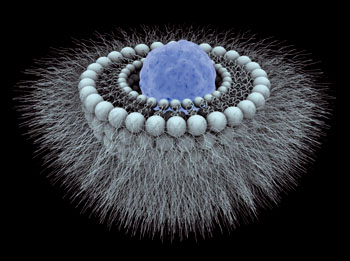 ---
© F. Caillaud/CNRS Photothèque/SAGASCIENCE
Liposomes, vesicles measuring tens to hundreds of nanometers, make excellent nanovectors for drugs.
---
There are already a dozen or so nanodrugs on the market, mainly aimed at treating cancer (Caelyx, Doxil, etc.) or serious fungal infections (Ambisome), or used for liver imaging (Endorem).
The nanoparticles used in these drugs are 70 times smaller than a red blood cell and are completely biodegradable. They deliver their active principles directly to the diseased organ, tissue, or cell. Yet not all these nanomedicines have the same properties.
First-generation nanomedicines are recognized by the immune system as foreign bodies and are therefore eliminated via the liver, which makes them very useful, but only for liver diseases. On the other hand, second-generation nanocarriers—so-called "stealth"—are covered with hydrophilic, flexible polymers that make them invisible to the immune system. These nanovectors remain in the general bloodstream for a much longer period, and can be used to target other afflictions, like degenerative brain diseases. Third-generation nanocarriers are now being introduced. "Their main advantage is that they are decorated by 'homing devices' (such as vitamins, hormones, antibodies, peptides, etc.) that can selectively recognize the targeted diseased cells," explains Patrick Couvreur, director of the PPB laboratory.
1
These hyper-miniaturized "missiles" can also carry metal nanoparticles, meaning that the drug can be released at will via ultrasound or radio-frequency heating.
Another application of nanovectors that looks highly promising is the delivery of chunks of DNA to cells. "Completely replacing a defective or missing gene is still extremely tricky," says Couvreur. "Yet nanovectors could be engineered to deliver small fragments of nucleic acids so as to inhibit, for example, the expression of a cancer or a viral gene."
Notes :
1. Laboratoire Physicochimie, pharmacotechnie, biopharmacie (CNRS / Université Paris-XI).