Optical Nanosource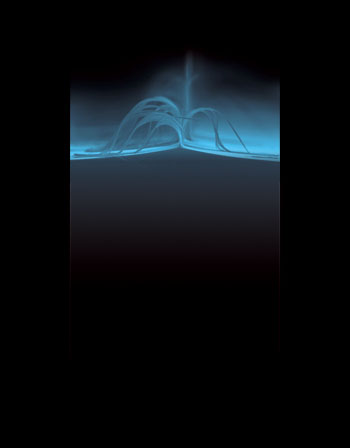 ---
© M. Volatier Ravat/CRN2-Sherbrook/LIA-LN2/CNRS Photothèque
---
What could pass for a shredded piece of paper or string cheese is actually a 100-nanometer-wide vertical wall that has lost its rigidity. Made of a Gallium Arsenide (GaAs) semiconductor, these "threads" show what happens when a nanowall–an extremely thin wire approximately 100 nm wide and 3 µm (microns) high–attains the physical limits of dimension reduction, explains Maïté Volatier, a PhD student at CRN2
1
in Sherbrooke, Quebec. Compared to "classic" semiconductors, which are mainly used in microelectronics, GaAs-based semiconductors have the ability to confine and conduct light. Such nanostructures are then used to design and produce ultra-compact optical sources in the near- and mid-infrared ranges. This picture won the 2nd prize in a photography contest organized during the LIA-LN2
2
symposium last July. This international laboratory, created by CNRS in 2008, brings together teams from France and Quebec. It aims to encourage collective research projects in the fields of nanotechnologies and nanosystems.
Marie-Hélène Towhill
Notes :
1. Centre de Recherche en Nanofabrication et Nanocaractérisation (Université de Sherbrooke, Quebec).
2. Laboratoire international associé en nanotechnologies et nanosystèmes (www.labn2.ca).