Humanities and Social sciences
Gaming Your Way to Better French
A team from the Strasbourg C&SE laboratory(1) is developing a Massively Multiplayer Online Game (MMOG) to help people learn French. Patrick Schmoll, the sociologist behind the project, tells us about his revolutionary educational game dubbed Thélème.
What exactly is Thélème?


---
© B. Braesch/Service de la communication/Université de Strasbourg
---
Patrick Schmoll:
Thélème is an online application that helps you learn French as a foreign language. After creating their own characters, the players are immersed in a world of swashbucklers. They then interact in real time with other non-French players like themselves with whom they have to communicate in French through a text-based chat system. They also meet French speakers attracted by the game itself, with whom they can improve their language skills. The players' scores are based on the quantity and quality of the French they use. We are also planning to have teaching modules based on virtual non-player characters who will entrust players with specific tasks–finding somewhere to live, looking for a job, solving a criminal investigation–using French as the only means of communication.
What are the advantages of this new learning method?
P.S.:
Thélème should be the first method that combines immersion, simulation, and interactivity among thousands of users. Its concept is based on the ever-increasing enthusiasm for video games and persistent virtual worlds like World of Warcraft and Second Life. Such games generate virtual communities in which users spend a lot of time, the key to learning a foreign language. Compared to current online or even offline teaching methods, like CDs and DVDs, our concept will be able to evolve and thus have a longer lifespan. It will be cheaper and it needs neither a state-of-the-art computer, nor an ultra-high speed Internet connection.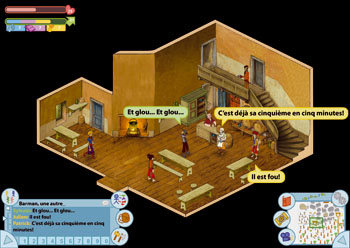 ---
© CNRS/université de Strasbourg
Immersed in a world of swashbucklers, players will need to use French to communicate with other players and make progress in the game.
---

Where did the idea come from?
P.S.:
Thélème is the result of our work on virtual communities, which showed how social bonding is generated through situations of conflict. In multiplayer online games, the competition leads both to conflict and dialog, because in the end, for long-term quests, you simply cannot win without the help of others. All interactions to exchange information, help one another, create groups and alliances, and build common strategies are opportunities to speak a common language: French in the case of Thélème.
How far have you come in its development?
P.S.:
The playable prototype, which belongs to CNRS and the University of Strasbourg, was completed at the end of February for a budget of €298,000. We are now seeking other sources of funding. We need €500,000 so that Almédia, the company that we set up at the end of February, can develop the game under license until we have a marketable product.
What are the next steps?
P.S.:
A free version of the prototype was made available to French teachers in September for two years,
2
during which we hope to set up a community and get feedback to improve the product. The full version could be accessible by 2011 with a subscription fee of €5/month. At that price, the company would break even with just 10,000 players, out of a potential market of 290 million people worldwide. What's more, the game could rapidly come out in German and Spanish versions, and we are also planning to add voice recognition modules.
Interview by Jean-Philippe Braly
Notes :
1. Cultures et sociétés en Europe (CNRS / Université de Strasbourg).
2. www.theleme-lejeu.com