Focus
A Mandible that Speaks Volumes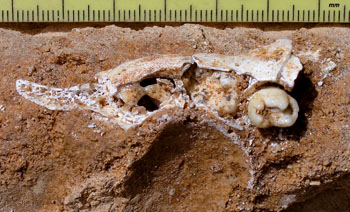 ---
© J.-P. Raynal
Part of a child's mandible dating back 500,000 years was discovered this past May in Morocco.
---
A human mandible fragment belonging to a child and estimated to be 500,000 years old was recently unearthed in the Thomas 1 quarry in Casablanca by a team of French and Moroccan archeologists co-directed by Jean-Paul Raynal, of the PACEA
1
laboratory. These are the only child remains ever found for this period in North Africa. Fossilized adult fragments had already been discovered at the quarry in 1969 and 2008, and were attributed to Homo rhodesiensis, the immediate predecessor of Homo sapiens. The recent discovery suggests that the dating for rhodesiensis, previously set at 300,000 years, should be revised. It also points to the fact that a population of this exact type of hominin species was clearly settled in the area half a million years ago. The site provides the earliest testimony to the existence of these hominids, so very close to becoming modern humans.
Notes :
1. De la Préhistoire à l'Actuel: Culture, Environnement et Anthropologie (CNRS / Université Bordeaux-I / Ministry of culture and communication).