Deinove
Second Generation Biofuels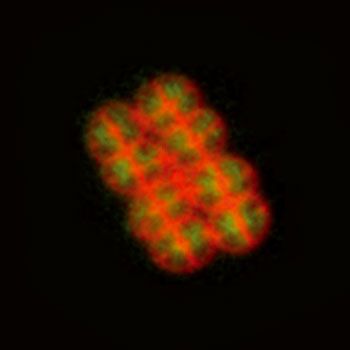 ---
© Dea Slade
Bacterial membranes (red) and DNA (green) labelling of a small colony of Deinococcus radiodurans (8 bacterias).
---
Producing second generation biofuels from residual agricultural and forest biomass is now seen by many as an environmental priority. That is because first generation biofuels–such as bioethanol obtained by fermenting corn with brewer's yeast (Saccharomyces cerevisiae)–stress food resources. But to be successful, second generation biofuel production needs to break down polymers, namely cellulose, hemicellulose, and lignin, more complex than glucose and saccharose, which Saccharomyces feeds on. This may soon be possible, thanks to the biotechnology company Deinove, specialized in research into a family of superbacteria, namely Deinococcales. Deinococcus radiodurans for example, first identified bacteria of the genus, can resist ionizing rays, UVs, solvents, and drought, among other things. "It is very efficient at repairing its DNA after radiation damage. This property makes it easier to insert genes into its genome, such as enzyme genes which are of interest for sugar degradation or fermentation. Some of these bacteria can also withstand high temperatures, which results in less water consumption when cooling the vats during fermentation under industrial conditions," says Jean-Paul Léonetti, of CPBS
1
in Montpellier.
The team of Miroslav Radman,
2
a member of the French Academy of Sciences, had for a long time been carrying out cutting-edge research on DNA repair in Deinococcus. It was after a meeting with Truffle, a venture capital firm, that Deinove was created two years ago, also involving CNRS and the Toulouse branch of the engineer school Insa.
"Three patents have been filed," says Jacques Biton, Deinove's CEO. "The first patent protects a smart research tool, the second one is protecting applications for the production of biofuels, and our last patent protects other potential industrial applications. Within two and a half years, we hope to set up a large scale pilot fermentor, with the help of an industrial partner." The latest move was the May 2008 creation of Deinolab, a cooperative lab between Deinove and CNRS in Montpellier. Thousands of Deinococcus strains have been collected since then all over the country–mostly in the hotsprings the bacteria are fond of. "We are now screening these strains on parameters such as sugar assimilation or solvent resistance, in order to identify one or several candidates. We will soon start their fermentation profile to generate a hyper-producing strain within 18 to 24 months," explains Léonetti.
Jean-François Haït
Notes :
1. Centre d'études d'agents pathogènes et biotechnologies pour la santé (CNRS / Universités de Montpellier-I and II).
2. Université Paris-V / Hôpital Necker.