Microorganisms have a considerable capacity for adaptation to the many strategies implemented to destroy them. Over the past 400 million or so years, the immune system of animals, and notably the relatively simpler system in insects, appears to have succeeded in preventing the evolution of microbial resistance. The secret to this achievement lies in a small toolbox of targeted natural antibiotics, the antimicrobial peptides.
In the present case, the researchers showed that the so-called "constitutive" front-line of cellular and enzymatic defenses in the insect immune system spares a small number of bacteria and thereby favors the development of microbial resistance. However, a second line of defenses involving antimicrobial peptides synthesized following the elimination of most bacteria by the front line, is able to restrict the growth of these surviving microorganisms, which may lead to their removal.
Thus the principal function of the antimicrobial peptides produced by the insect immune system is to prevent the resurgence of bacteria resistant to the host's constitutive defenses, which will consequently reduce the emergence of resistant bacteria.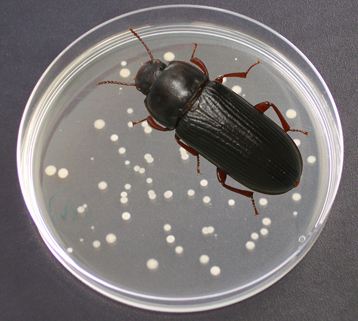 ---
© Yannick Moret/Biogéosciences-Dijon (CNRS/Université de Bourgogne)
The immune system of the Tenebrio molitor beetle eliminates the great majority of bacteria infecting it within less than an hour, and then restricts the development of resistant bacteria thanks to the production of antimicrobial peptides over several days, thus preventing the emergence of resistant bacteria. Might it not be possible to copy this model when designing drug therapies that would reduce the development in pathogens of multidrug resistance to antibiotics?
---
Bibliography:
Antimicrobial defence and persistent infection in insects, Eleanor R. Haine, Yannick Moret, Michael T. Siva-Jothy and Jens Rolff, to appear in Science, 21 November 2008