CNRS researchers have demonstrated that by using a new class of contrast agents sensitive to enzymes, it is possible to locate the affected part of the body. The molecules act as molecular switches – when they encounter a specific enzyme, this sets off a cascade reaction, leading to the activation of the contrast agent which then becomes detectable in an MRI image. The systems have two positions – they are "off" in the absence of the enzyme, and "on" if it is present. Therefore, an image is only received when the contrast agents are activated.

The reactions caused by certain enzymes may be an indication of the state of the cells, and be interpreted as the signature of a given pathology. In the future, detection of enzymes thanks to these contrast agents should enable doctors to diagnose a disease  with a simple MRI examination. Furthermore, the system can be modulated and is potentially applicable to a great variety of enzymes, and, therefore, pathologies.

Understanding the mechanism of these new molecules for medical imaging constitutes a major advance in visualizing molecular processes in vivo, as well as in detecting pathologies.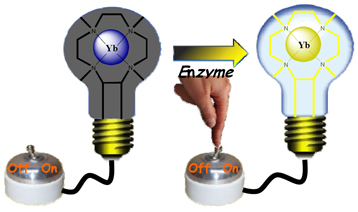 ---
© ICSN (this image can be obtained from the CNRS photo-library, phototheque@cnrs-bellevue.fr)
Figure 4 – In the diagram, the light bulb represents the contrast agent. If the enzyme is present, the contrast agent is activated and "lights up", making it detectable in an MRI image.
---
Bibliography:
Detection of enzymatic activity by PARACEST MRI: a general approach to target a large variety of enzymes, Thomas Chauvin, Philippe Durand, Michèle Bernier, Hervé Meudal, Bich-Thuy Doan, Fanny Noury, Bernard Badet, Jean-Claude Beloeil, Eva Jakab Toth, Angewandte Chemie International Edition, Online.