A Magician of Probabilities
Persi Diaconis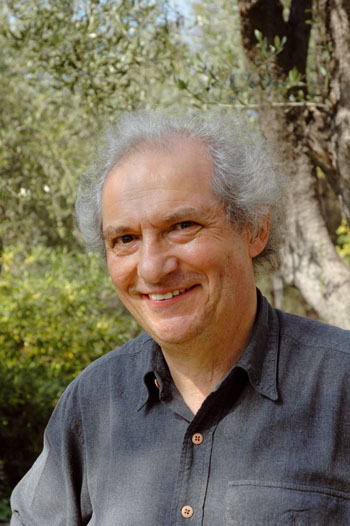 ---
© J. Pusceddu
---
It's quite a stretch to imagine a former professional magician–who left both his family and school at the age of fourteen–becoming one of the brightest stars in the mathematical world in his later years. Now one of the top probability specialists of his time, he was even awarded the first French chair of excellence in mathematics. And yet, even if a story like this is more often found in novels than in real life, it is exactly how it happened for Persi Diaconis. Skeptics need only go to the University of Nice Sophia Antipolis, enter the J.A. Dieudonné1 laboratory to meet 62 year-old "Magic" Diaconis, the living proof that a man can change himself into a probabilities specialist and be overwhelmed with honors, all this after having worked eight years as a street magician, working clubs, and entertaining America's upper crust. He spent the whole of last year in this laboratory, and will be back three months a year until 2009.
"In 1959," he recalls under an autumnal Riviera sun, "I met the greatest living magician at the time, Dai Vernon. He took me under his wing and gave me the unbelievable gift of revealing all his secrets. Within a year, I had left home and given up school to immerse myself completely in the world of magic." So how did this young man, who would go on to invent an amazing number of card tricks, end up working on the mathematical conundrums that now occupy "90% of his time?"
It was a book on probabilities that changed his life. And it almost happened by accident. "I didn't understand a word," he says laughing. "But as I was interested in finding the connections between probabilities and games of chance, I forced myself to keep reading and later went back to school. I have to say, though, that it took ten years before I found mathematics as fascinating as magic!" After years of evening classes and a growing number of university diplomas, the man that some of his fellow students found "a little strange" finally qualified as a doctor of mathematical statistics in 1974. He taught at Stanford in the statistics department for ten years, moved to Harvard's mathematics department for 12 years, and is now back at Stanford with a joint appointment in mathematics and statistics. Famous for his offbeat teaching methods (he likes to illustrate theorems with card tricks) and working very hard to bring topological algebra, geometry, and logic closer to the fields of probabilities and statistics, Diaconis is responsible for a number of unexpected–or expected–research projects. One is the historical ranking of Plato's texts via a statistical study of the last five syllables of every phrase in the Greek thinker's works. Another has focused on playing cards, to determine how many times a deck of cards needs to be shuffled to ensure that the deal will be entirely random (the answer is seven). More recently, he has worked on the game of heads or tails to understand the way a coin spins when manually thrown in the air. And although this natural showman describes himself as a "social mathematician who needs to interact with other researchers" and a "butterfly" (he mimics one quite well), he has never stopped building bridges between his beloved discipline and physics, biology, computer sciences, or even philosophy. But looking back, does he have any regrets about having given up his magic wand? He would only whisper, his eyes half-closed, "If only there were a chair of magic at Stanford..."
Philippe Testard-Vaillant
Notes :
1. CNRS / Université de Nice Sophia Antipolis. Persi Diaconis worked with Pierre Del Moral's team in Nice on the "probabilities and interactions" project.