Susanne Fürniss
The Story Behind the Music


Susanne Fürniss was twenty-four years old when a pygmy song changed her life forever. At the time, this insatiable music lover was studying to become a high school music and French teacher in her native Germany, paying her way by leading a children's choir and playing and teaching the violin. One day, as she was sitting in a class called "Origins of Music" at the Superior Conservatory of Music of Hamburg, her professor played a recording of the whistling song of the Mbenzélé pygmies, recorded by renowned CNRS anthropologist Simha Arom. For the young Fürniss, the alternating melody of voices and papaya wood flute was the sound of her career plans shifting gears. "It was a visceral feeling," she remembers. "As soon as I heard it, I knew I needed to become a researcher and study this music in depth."
And she kept her word. Today, Fürniss is an ethnomusicologist at the "Langues, musiques, sociétés" laboratory
1
where she has been studying music structures of the Aka and Baka pygmies, first in Central Africa, and now in Cameroon. In her office near Paris, yodeling voices can be heard pouring out of the computer, on which Fürniss edits and records music before bringing it back to Africa. During her frequent fieldtrips, she travels alone, stopping in every village to ask about local musical practices. She sits down with musicians and patiently records, analyzes, and deciphers the anthropological markers hidden inside the music's very structure. "It can be tricky at first. I have to make sure people understand I am not a tourist, that I have not come to steal their music and sell it for my own profit. What I do is to show them I am a musician first, a scientist second."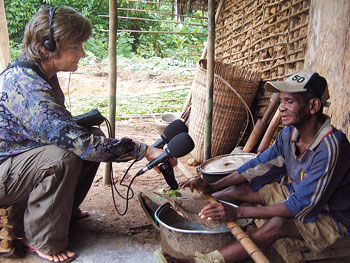 Through the particularities of local music structures, Fürniss traces and compares the evolution of rituals in pygmy tribes–sometimes separated by thousands of kilometers–and determines the degree of influence of neighboring populations on their culture. From the chants surrounding circumcision rituals for little boys, to the highly sexualized playground rhymes of little girls, or even the music of grief and mourning, Fürniss explores this musical map and uses musical analysis to understand the symbols of pygmy rituals. She has communicated this knowledge in countless articles and publications, but also in DVDs, websites, CDs, children's books, and museum exhibits. "Making this knowledge accessible, letting people know that there are people on the other side of the world living a complex life that is different from ours, is vital," she says. "So often, ethnology is dismissed as a discipline of the past, but these people are our contemporaries!" she exclaims.
It is in fact to get greater recognition for her field of study that Fürniss chose France. Despite being an outstanding student in Germany, and even taking a year off to teach herself the rudiments of African musicology, Fürniss was unable to find either the support or the resources necessary for her work in her native country. During her year of intense solo research, however, she discovered the work of Simha Arom, the very same researcher who had recorded the first pygmy chant she ever heard. "I rapidly developed the intimate conviction that there was, in Paris, a professor from whom I would have a lot to learn," says Fürniss. After completing her PhD on the role of the yodel in Aka Pygmy music, Fürniss entered CNRS in 1993, a decision she has never regretted. A busy mom with two kids, she says the German system would never have allowed her the freedom to work and travel so much. "I didn't really choose France, but France beckoned me, by providing me with the best possible environment to do my research."
Lucille Hagège
Notes :
1. CNRS / Université Paris V.