Biohub
Cereal Success
Biohub, with the backing of several teams at CNRS, aims to develop chemical products from cereals and their derivatives. Its production ranges from green solvents to road surfaces, via food packaging and cosmetics.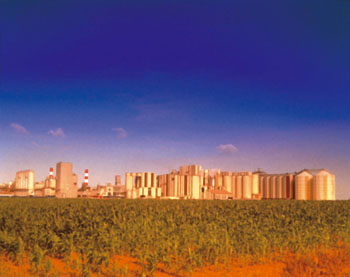 At Lestrem, in the French department of Pas-de-Calais, 6000 tons of wheat and maize arrive every day by rail at Roquette Frères, the world's fourth biggest manufacturer of starch. And every day, an impressive truck convoy leaves, carrying a range of products manufactured by the company. Roquette Frères refines no fewer than 650 different substances such as glucose syrup for jams, toothpaste or shower gels, sorbitol for the manufacture of sugar-free medicines, chocolate and chewing gum, or even starch, used to make glue for corrugated cardboard. But Biohub's work will soon put far more products into production. New compounds, all made from renewable resources, will be used to manufacture green solvents, biodegradable plastics, food packaging, polymers, and even road surfaces. The aim is to develop a whole new industry capable of replacing some of the products currently made by the petrochemical industry, which are becoming increasingly expensive. It's also a way of supporting French agriculture. "We are even more ambitious," claims Christophe Rupp-Dahlem, director of the Biohub program at Roquette. "We want to create products and industrial processes that don't exist today."
This type of technological leap requires the concentration of all available energies in the field. Thus, the 300 researchers at Roquette (out of a total of 6000 employees) have joined up with public-sector laboratories, including CNRS and its teams at the Ingénierie des Matériaux Polymères laboratory in Lyon,1 INSA in Rouen,2 and IMMCL in Lille.3 "This is another step in one of CNRS' research strategies to develop sustainable development oriented chemistry," points out Jean-Marc Lefebvre, director of IMMCL.
Biohub is giving priority to two major areas of research. The first aims to create entirely new chemicals from cereals. Rupp-Dahlem quotes the example of isosorbide, as a monomer4 for new polymers including its derivatives which could be used as new plasticizers for PVC (polyvinyl chloride, a polymer), softeners in cosmetics, or solvents for road surfaces. The second aims to develop innovative biotechnological processes that are more advantageous economically speaking than their petrochemistry-based counterparts. Yet, Rupp-Dahlem is fairly discreet on the subject: "We're trying to protect our innovations to the fullest, especially since we're faced with competitors in Asia who are on the lookout for the tiniest bit of information."
For there's an awful lot at stake. The Biohub project was the first to be both selected by the Agency for Industrial Innovation (AII) in 2005 and approved by the European Commission. Designed to last five years, it will have a budget of nearly €92 million, 42.7 million of which is funded by the AII in the form of subsidies and repayable advances. The operation is being led by Roquette, in partnership with seven other industrial companies, including the chemical companies Arkema (France), DSM (Netherlands), Cognis (Germany), the roadwork construction company Eurovia (Vinci group), and Sidel, a company specialized in plastic packaging. Not forgetting Metabolic Explorer, a promising start-up in Clermont-Ferrand specialized in the industrial application of biotechnology techniques.
"In ten years' time," says Rupp-Dahlem, "1.3 million tons of cereals, grown on an area of 160,000 hectares, will be processed in new biorefineries." They will either be built next to those that already exist, or built from scratch. It will lead to over €700 million in industrial investment and the creation of 600 jobs in the various companies taking part in the project.
Emmanuel Thévenon
Notes :
1. CNRS / INSA Lyon / Université Lyon-I / Université St-Étienne.
2. Laboratoire "Asymétrie, hétérocycles, hétérochimie et bio-organique" (CNRS / INSA Rouen / Université Rouen).
3. Institut des molécules et de la matière condensée de Lille (Unité de catalyse et de chimie du solide) (CNRS / Université Lille-I / Éc. nat. sup. chimie Lille /École centrale de Lille) and Laboratoire de chimie organique et macromoléculaire (CNRS / Universités Lille-I and II / Éc. nat. sup. chimie Lille).
4. The basic unit in the synthesis of polymers.