Bio-imagery
Cells from within
Vital for biology, cell microscopy techniques are today the business of specialists. Every day, the engineers and technicians of the cell imaging unit at the Institut Jacques Monod, together with various research teams, carry out painstaking work in order to obtain fascinating images which help unravel the cell's mysteries.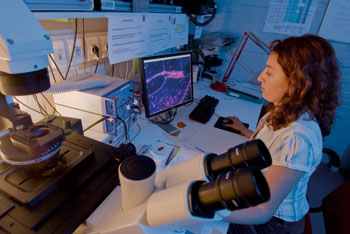 A scientific image has no aesthetic purpose. It could even take the form of graphs and matrices. Its role is to allow quantitative and qualitative analysis of phenomena," says Marc Tramier, one of the five engineers who work with the cell imaging unit at the Institut Jacques Monod. When you see the sheer beauty of the images produced by the lab, this statement is pretty hard to believe, yet imaging is just a tool for understanding the workings of the cell's machinery. And we've come a long way since the days of the simple stereoscopic microscope. Today, imaging techniques have become extremely complex to carry out and are not within the capabilities of any lab. The Institut Jacques Monod,1 one of France's major biology institutes, has become a specialist in cell imaging. "By using light microscopy, we can see processes taking place within living cells, whether they're cultured or belong to organisms such as fruit flies, frog embryos, or nematode worms, etc.," Tramier explains.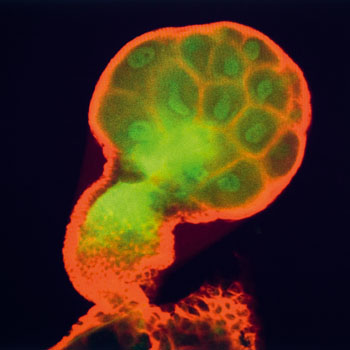 Every year, the six engineers and technicians who run the unit are hosts to around forty research teams from their own institute or from other labs, as well as to industrial companies. This enthusiastic and versatile team has amassed an invaluable amount of knowledge in such widely differing fields as biology, spectroscopy, informatics, and data processing and analysis. "There are two types of teams who use our expertise," explains Tristan Piolot, the unit's technical officer. "Those who know exactly what images they need: the spatial resolution, the time lapse between each image, etc. With them, our work is essentially technical, but their requirements are often very challenging. And the others who know exactly which processes they want to study, but don't have a very accurate idea about the technique to use. In that case, our role goes beyond just technical support: We have to take a good look at the scientific issues involved to come up with the most appropriate solution." In cases like these, it is the unit's team that guides the researchers. Sometimes they will advise using wide-field videomicroscopy, which can take pictures of a cell at a rate of 50 images per second, but with relatively low spatial resolution.2 In other cases, they may recommend the use of a confocal microscope.3 This is slower and fairly aggressive towards the sample under study, but more precise than conventional microscopy.





In all, the biologists have the choice between nine different imaging systems. "Over the years, we have acquired a good understanding of researchers' needs, which helps us improve experimental protocols and, in the end, the results obtained," says Tramier, who shares his time between the imaging facility lab and one of the labs of the institute. One of the unit's strengths is data processing and analysis. To get from a raw image to one that can be used by researchers and published in a scientific journal requires a lot of work. And how are visual representations of the cell improved, simply by using image processing software? "We use image processing software or develop our own image processing tools. The filters we use to enhance certain features of the image and clean it, should never degrade the information that it contains or produce artefacts," Piolot explains. Another facet of their work involves developing new imaging techniques in collaboration with the research team led by Maïté Coppey. One of these is the FLIM (Fluorescence Lifetime Imaging) technique, which makes it possible to observe and measure the interaction between proteins using fluorescent markers. It has now been transferred to the unit and made available to researchers. Just one of the numerous projects that keeps this 'image factory' competitive.
Sebastián Escalón
Notes :
1. CNRS / Universités Paris-VI and VII.
2. The resolution is the ability to distinguish between two details that are very close together.
3. A confocal microscope makes it possible to obtain images of higher resolution than with a conventional microscope. It uses a laser beam focused on a very small area of the sample, which is used to scan the entire surface under study.